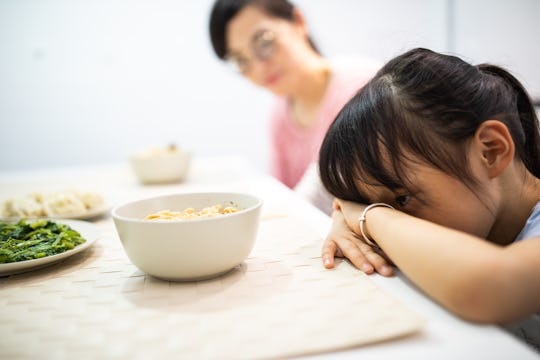 miodrag ignjatovic/E+/Getty Images
Try These 15 Foods When Your Picky Eater Is Like 'More Dino Nuggets, Please'
When mealtime is a battle with your child, sometimes it's easier to just give them what they want than force them to try food they'll only spit out in disgust. As nice as it would be to only make one meal for the family, the best foods for picky eaters are the ones they will actually eat that also have some nutrition. You may still have to make more than one meal for your family, but at least you won't have a hangry kid on your hands.
To say that it's frustrating when you have a kid who turns their nose up at everything is a huge understatement (what kind of monster doesn't like spaghetti?!). Even so, the best things you can do as a parent are to have patience and practice what you preach. Nutritionist Ilyse Schapiro, MS, RDN, tells Romper that a kid's picky eating isn't as simple as their unwillingness to try new things. "Some kids are more sensitive to smell, texture or taste," she says. "For some its genetic." She encourages parents to be persistent but to also manage their expectations with new foods, because "a child has to try a food 10-15 times before they can really say if they like it or not." Parents' own eating habits can also play a role in a child's picky behavior, Schapiro says. "Kids model after their parents' behaviors ... if you are a picky eater, most likely your child will be a picky eater." To combat this, she says, "If you show them that you eat a variety of foods, then they may be more likely to try them."
Guiding your picky eater into exploring new foods will obviously take some time, so what are parents supposed to do in the interim? Schapiro recommends parents keep mealtimes relaxed, because "if you are constantly putting pressure on kids to try new foods, they are most likely going to push back." Additionally, she suggests "put[ting] out a veggie plate and/or fruit" because "the more they see that this is normal, they may eventually want to try some." Still, the process isn't quick, so to help you all get through it, here are a few foods to feed your picky eaters that they will both enjoy and will give them some nutrition.