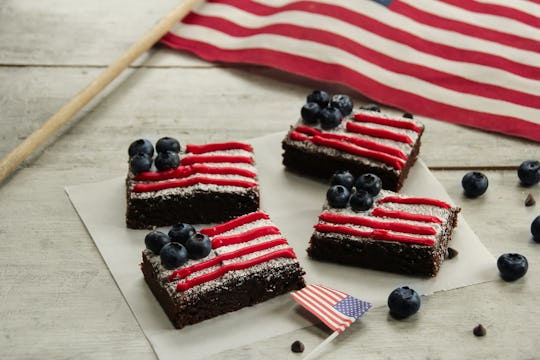 vm2002/Fotolia
15 Cute 4th of July Desserts You Can Literally Make In A Flash
Whether you're planning to host a 4th of July barbecue or you've been tasked with bringing something sweet to somebody else's shindig, you might be on the lookout for some patriotic dessert recipes right about now. Actually, make that patriotic dessert recipes that don't require too much time or effort in a hot kitchen, because chances are you're hot enough these days. Fortunately, there are plenty of holiday desserts to make that don't require any cooking (and even the ones that do are still pretty no-sweat). So what are some easy 4th of July desserts?
Depending on your taste, you've got lots of choices. Several of these treats are even legit healthy, thanks to the many nutritional benefits of such naturally red and blue edibles like berries. From refreshing beverages to colorful homemade candies to elegant Pinterest-worthy creations, there's something on this list no matter what you're trying to achieve. Plus, you can even get the kids involved in making some of these (anything that keeps little ones entertained for a little while during summer vacation scores extra points).
Most of these can be made in advance, too, so you can actually spend time hanging out and relaxing instead of whipping up the last course last minute.
This article was originally published on