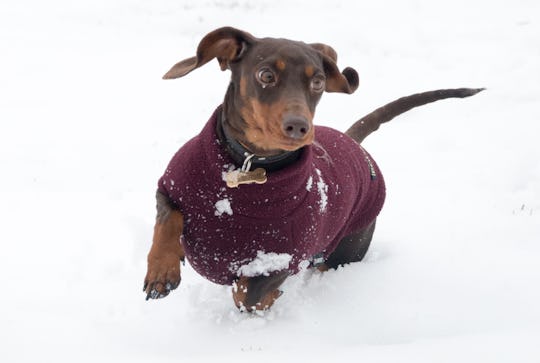 Matt Cardy/Getty Images News/Getty Images
These 15 February Dog Names Are Too Perfect For Your Winter Pooch
I'm sure I'm not the only one feeling the winter blues right about now. It's wicked cold out and I've got cabin fever big time. Maybe that's why I've been thinking about getting a dog lately. After all, a four-legged friend can cheer you up now and keep you smiling all year round. Plus, if you're factoring in how many good February dog names there are to choose from, now is absolutely the best time to bring home an adorable little fur ball.
There are so many sources of inspiration to draw from when naming your February pooch. There's the Super Bowl, the Grammys, and the Oscars. There's Chinese New Year, Valentine's Day, and don't forget President's Day. And you can always just look outside your window for inspiration. There's been some pretty epic weather phenomenons this winter (i.e. Polar Vortex) that could be used for naming fodder, especially if you're living in a state that saw record-breaking low temperatures.
So whether you're looking for a weather-themed name or something more inspired by pop culture, this February dog name round-up is for you. One of these amazing monikers is sure to be the perfect fit for your new four-legged friend.