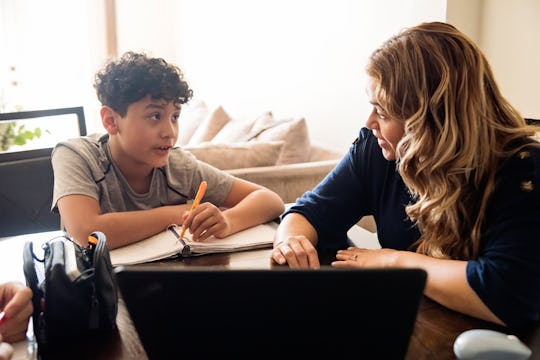 martinedoucet/E+/Getty Images
Laugh Until You Cry At These 15 Instagram Captions About Homeschooling
While there are plenty of parents out there who homeschool their kids by choice (and are successful in their efforts), all the unprepared moms and dads who very suddenly found themselves filling the role of their kid's teacher recently might feel a little differently about "homeschooling" (so to speak). If you're one of these parents, you could probably use a few hilarious Instagram captions about homeschooling to help you (and your friends) feel a little better about the whole confusing situation. Better to laugh than cry, after all.
If you've been thrust into the homeschooling life, you've probably found yourself in situations where you have to lead lessons in subjects you know nothing about. That, combined with your own lack of enthusiasm about your newfound role, can make it incredibly difficult to get your kids to do their assignments... let alone stay focused and on track when they actually sit down to do them. It's an understatement to say that this new system is exhausting.
It's understandable if you've found yourself just staring out the window, missing your child's teacher, and vowing to never take them for granted again. Millions of other parents are likely doing the same thing after hard days full of long division, science projects, and history lessons. So, to help everyone feel a little less alone in the battle, share some photos and statuses on Instagram that shed some humor on the many funny failures and feelings you're facing throughout the day.