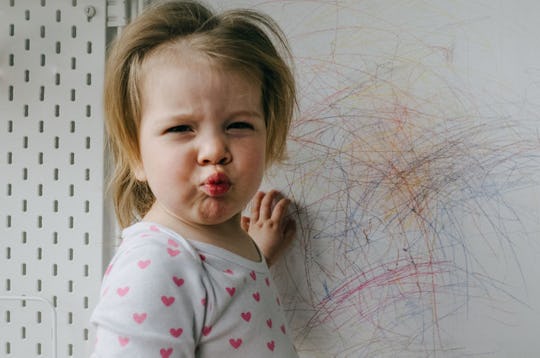 Nikola Bradonjic/Stocksy
15 Hilarious Instagram Captions For When Your Toddler Is Being Such A Toddler
As the mother of two toddlers, I can say without a doubt that toddlers are the best. And also the absolute worst. They'll wreck your house, refuse your food, push every single one of your buttons, and then, just when you're about to completely lose your cool, they'll smile, tell you how much they love you, and give you the biggest hug. Sometimes all you can do is just laugh, and snap a picture to hang on to the memories. And when you do, these funny Instagram captions for toddlers being toddlers will help you put into words all the ridiculousness that goes into parenting these challenging little creatures.
Whether you're in the thick of the terrible twos or dealing with a sassy three-nager, the toddler years can definitely elevate your stress levels. But as the saying goes, the days are long and the years are short. As frustrated as they might make you at times, your toddler won't be a toddler for long, and someday, you'll love being able to look back and laugh at all the naughty things they did — especially since you'll have immortalized all their most outrageous incidents and outbursts on Instagram.
These 15 Instagram captions are perfect for sharing the savagery that is raising a toddler.