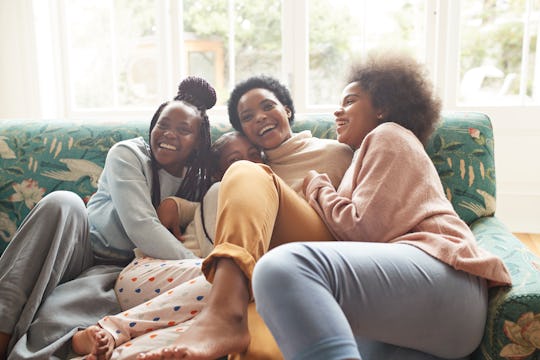 Getty Images
15 Moms Who Get Along Well With Their Teens & Tweens On How They Did It
From before they're even born, we are trained to dread our children's transformation from beloved moppet to terrible teenager. "Just you wait!" say a chorus of embittered teen parents. "These toddler temper tantrums are nothing compared to a 16-year-old's mood swings." I don't doubt the challenge of older children or these parents' lived experiences, but also don't think it's impossible to have a good relationship with your teen or tween.
Now I will fully admit that I'm coming to this conversation with the optimism of the inexperienced. My kids are 8 and 5: I have a while before I have to worry about any of this one way or the other. But I'm also a human with several decades of observational experience and I've seen positive parent/t(w)een relationships! Being a t(w)een never got in the way of my relationship with my parents! And I have friends who have beautiful relationships with their middle- and high-school children.
So how does it happen? The general consensus seems to be a combination of communication, mutual respect, boundaries, and luck. But how, specifically, can one work to have a strong and positive relationship with their not-so-little kiddo? Romper asked 15 parents how they did it — here's what they had to say.