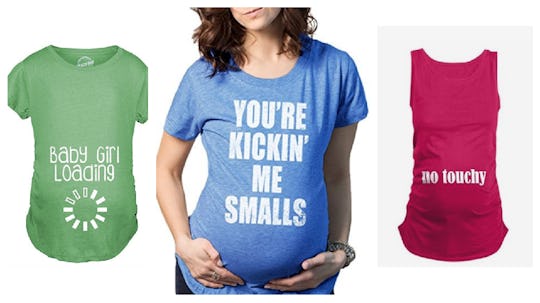 15 Hilarious Maternity Shirts For Witty Moms-To-Be, That Are Just Too Good To Resist
Planning out a maternity wardrobe can be something of a chore, but there's at least one way to make light of the whole pregnancy situation. Adding a few funny maternity shirts to your closet will make getting dressed a little more amusing, if nothing else. Because if you have to buy all-new clothes for this stage of your life, at least a few of them should be silly.
Hey, pregnancy can be such an overwhelming and scary experience that sometimes all you can do is laugh a little. So wear these shirts to your OB-GYN appointment, lamaze class, or any other place that needs a little levity. It's a fun way to share your humor. And to be fair, plenty of these maternity shirts are legitimately humorous. With references to classic movies, some terrible puns, and pregnancy jokes, these shirts address your coming baby in a fun way. You're bound to get a couple of laughs every time you wear one.
Plus, some moms just want a shirt that straight-up addresses the pregnancy. It's one way to avoid awkward conversations with strangers, because the shirt confirms the fact that you do, indeed, have a baby on the way. Some even warn others not to touch your bump — really, a few moms I know would appreciate these tops for every pregnancy to come, or at least until the "no-touching-random-pregnant-women" idea finally becomes more mainstream. (Don't hold your breath). Until then, here are some hilarious maternity shirts that will surely get a laugh.