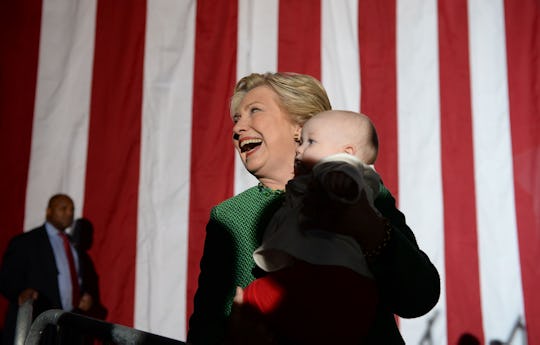 ROBYN BECK/AFP/Getty Images
15 Hillary Clinton-Inspired Baby Names To Keep The Dream Alive
To say Nov. 8, 2016 was a historical day would be an understatement. Although Democratic party nominee Hillary Clinton did not earn enough votes to become the next president of the United States, she still walked away as the first female nominee for any major party. That's pretty impressive considering women didn't even have the right to vote a century ago. And even though she won't be making her way to the White House, that doesn't mean your support of Clinton has to come to an end. There are plenty of ways to show that you're still with her, whether it's through t-shirts, sentimental social media posts, or Hillary Clinton-inspired baby names.
Though you may think the latter only applies to people who are expecting or recently gave birth (or Sosha Adelstein, the women who voted while going into labor, according to ABC News), but that's far from the truth. Clinton's road to the White House — though unsuccessful — isn't one that the world will forget away any time soon. People will be talking about her journey for many years to come, especially since it was paved with controversy and complications (e-mails, anyone?). So whether you give birth today or 10 years from now, you can pay tribute to Clinton and the many people who played a role in her journey.
Take a look at the following Hillary Clinton-inspired baby names and see if any of them strike a chord. Who knows — maybe your baby's namesake will inspire them to break some ceilings in their life.