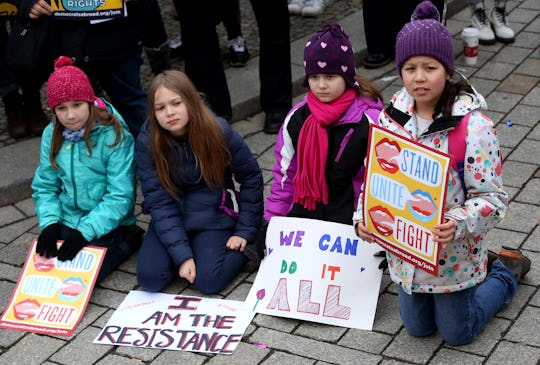 Adam Berry/Getty Images News/Getty Images
15 March For Our Lives Sign Ideas For Kids Who Are Ready To Change The World
When news broke about the mass shooting at Marjory Stoneman Douglas High School in Florida that killed 17 people, my first thought was, "Not again..." Now the student survivors of the shooting are coming together to lead the #neveragain movement to try to ensure that it doesn't happen again. They've organized March for Our Lives, a nationwide protest that will take place on March 24, in Washington, D.C., and in sister cities across the country. If you and your family want to take to the streets in solidarity, here are March for Our Lives sign ideas for kids. After all, what's more powerful than having this call to action come from the children?
I've been brought to tears by the courageous actions being taken by the students of Parkland, Florida. When I watched a video of Emma Gonzalez, a survivor of the shooting, speak at a gun control rally just days after the tragic event, it gave me goosebumps.
"We are going to be the kids you read about in textbooks. Not because we're going to be another statistic about mass shooting in America, but because... we are going to be the last mass shooting," said Gonzalez.
In the mission statement on the March for Our Lives website, the students of Parkland declared, "Our schools are unsafe. Our children and teachers are dying. We must make it our top priority to save these lives."
Here are 15 sign ideas for your kid to carry in support of school safety, the end of gun violence, and the Parkland students on March 24.