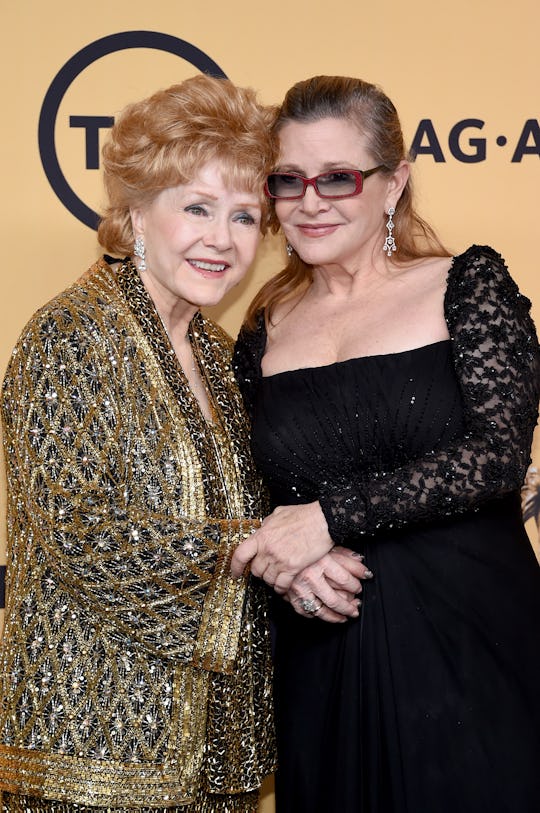 Ethan Miller/Getty Images Entertainment/Getty Images
'Bright Light's Fans Take Note On These Moments
"I like Christmas. I like the lights. My mom... she is Christmas. She's something special," Carrie Fisher enamors over her mother, Debbie Reynolds, in their documentary, Bright Lights. In the midst of the dark event that is their consecutive deaths, the film works to color in the beautiful lives the luminaries shared together. The cinéma vérité not only shows home footage of Carrie and her mother from the past, but exposes their latest, deepest insecurities and private moments. In it, we see a young Carrie's playful side as she dances around the Wall of China on Christmas, and Debbie's human one, as her aged body struggles to walk down a flight of steps.
The film is a microscopic view of a mother and daughter's lives without the sense of claustrophobia. The documentary pulls out your heart, but immediately squirts you in the face after doing so with a fake flower to help you forget the pain. In other words, Bright Lights is a cocktail of serious issues and laughter — the main ingredients to Carrie and Debbie's lives. From the biopic, we receive a history lesson, a love story, and a testament to the show business queen, and her princess, "Leia."
Here are 15 intimate things about Hollywood legends, Debbie Reynolds and Carrie Fisher, you walk away knowing from HBO's Bright Lights.
1. Debbie Had An Unfortunate Love Life
Near the introduction of the documentary Debbie says, "If there's a nice guy around, I'm not going to find him," making a crack at her own failed romantic ventures. Debbie's husband, and Carrie's father, Eddie Fisher, left Debbie for Elizabeth Taylor. When Debbie tried her hand at love again, she was unsuccessful. The Singin' In the Rain actress wound up marrying Harry Karl, who spent a chunk of her fortune on a secret gambling addiction.
2. Carrie Wasn't Very Close To Her Brother Growing Up
When describing their childhood, Carrie compared her and her sibling (Todd Fisher)'s relationship to nature. "We didn't grow up with each other, we grew up around each other like trees," the star confessed.
3. Debbie Still Had A Healthy Sense Of Humor
During the documentary, audiences catch sight of Debbie Reynold's lighthearted side, that was quickly picked up and amplified by her daughter, Carrie. "I share everything with my daughter, especially the check," the retired actress coyly proclaims as she smirks at the camera.
4. Carrie Was Hilariously Blunt
"My question is: if you die, do you become a fat ghost?" she asks her personal trainer as she works out. Anything that comes to her mind shoots out of her mouth like a firecracker. When helping her mother, Debbie, pack she criticizes an outfit saying "it has a drag queen element." She even equates her Comic Con meet and greet to a "celebrity lap dance."
5. Carrie Was Funny Because She Wanted To Impress Her Father
During a clip of Carrie with her dad, Eddie Fisher, she comes clean to him saying that she tried to be a funny person so that he would stay with her. Three months before his death, she said "You know what? I used to be funny for you. 'Cause if I thought if I was really funny that you would want to be around me all the time." Carrie's personality sparkled throughout her life, but it's upsetting to discover how she came to be so comically brilliant.
6. Debbie Never Wanted To Appear Vulnerable
The starlet was trained by MGM to always appear her best. For this reason, Debbie tries to keep up appearances, and look presentable, even when she's not feeling so hot. For example, when she walked to receive her Screen Actor's Guild Lifetime Achievement Award, she was concerned about looking frail when holding onto Carrie. She was elegant until the end.
7. Carrie Gave Wild Presents
Carrie was a notorious gift giver. She casually gave her childhood friend a gift that had a threesome painted on it. Carrie must get that erotic sense of giving from her mother, as Carrie dished to Mirror that Debbie once gave her a box of sex toys for Christmas.
8. Not Only Was Carrie Quirky, But So Were Her Possessions
She has an odd photo of her friend, Charlie, "at the dentist with his mouth widely displayed," among photos of her friends. In the same bizarro manner, Carrie's shower curtains have the bloody handprints from Psycho on them instead of normalized aquatic designs, and while most people have a plain TV stand, a Dr. Seuss-like stand made from stacked luggage hold up her set.
9. Debbie Loved To Hear Carrie Sing
Carrie's "act of rebellion" as a young girl was not wanting to sing, even though Debbie loved the sound of her voice. In the documentary, Carrie's vocals alone bring Debbie to tears.
10. Carrie's Friend Took Her Virginity
Carrie opens up about how her close childhood friend took her virginity since she didn't want her first boyfriend to know she was a virgin.
11. Debbie Was Down To The Bones Unstoppable
Todd Fisher, Debbie's son, characterizes his mother as "unsinkable." He goes on to expose Debbie's relentless passion when revealing that "That unsinkable Molly Brown stuff is her." No matter how tired her elderly body was, Debbie wanted to keep on ticking in front of an audience.
12. Carrie Had Played With Drugs In The Past
She smoked pot with her brother when she was 13, and moved onto harder drugs from there. Eventually she replaced her fixation for narcotics with a sweet tooth for Coca-cola and cigarettes, as exemplified in Bright Lights.
13. One Of Debbie's Dreams Was To Start A Film Museum
Debbie collected Hollywood nostalgia like the shoes of Dorothy from The Wizard of Oz, Marilyn Monroe's famous subway vent dress, the makeup stool from Cleopatra, and other filmic artifacts of that nature. Sadly, Debbie's dream never became a reality, and many of the possessions were sold at auctions.
14. Carrie Was Bipolar
While getting her nails done in the documentary, Carrie makes a brief comment that she is in the manic stage of her bipolar disorder. She also has a small breakdown while preparing the Screen Actor Guild's Awards area for her mother. Regardless of her disorder, Carrie carries herself very well.
15. Performing Gave Debbie Life
Despite any tragedy going on in her personal life, Debbie always placed focus on her career. Carrie disclosed that "performing gives [Debbie] life. It feeds her in a way that family cannot." Given that addicting sense of fulfillment, it makes sense that the Singin' In The Rain star continued working until her last breath.