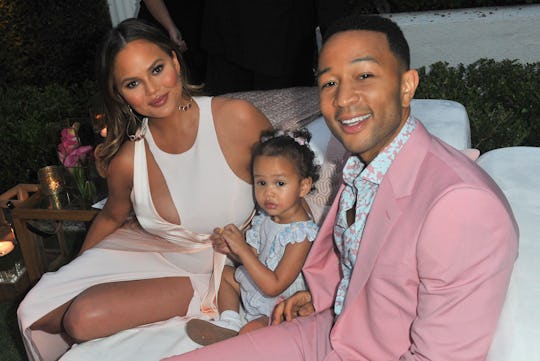 Jerod Harris/Getty Images Entertainment/Getty Images
Chrissy Teigen's Most Hilarious Moments With Luna In Honor Of Her Third Birthday
Every one is very aware that Chrissy Teigen is one very funny mom of two. But she owes this all to her first born daughter, Luna, who was born three years ago today. Without learning from Luna, Teigen would never become the hilarious mama that she is now. So, all of Chrissy Teigen's most hilarious moments with Luna should be celebrated, right?
Just three years ago today on April 14, Chrissy Teigen and husband, John Legend, welcomed their first child into the world together, according to Entertainment Tonight, and their lives were changed forever. Throughout the past three years, Teigen has served as an inspiration to moms everywhere, thanks to her willingness to share so much of her life — from the high points to the low ones, too. In a 2017 issue of Glamour, she opened up about her struggles with postpartum depression after giving birth to Luna for the first time.
"I thought postpartum was, you have the baby and you're sad," she said. "It sneaks up on you. That's why I thought it was important to talk about."
Since then, Teigen's honesty has been so appreciated, especially since it's what makes her so hilarious. She isn't shy to share the funny, not so glamorous parts of being a mom of two (she gave birth to her son, Miles, last year) — and she has her kids to help her through it all.
If people can count on Teigen and her first born daughter for anything, it's their humor. These following moments of them together are so hilarious and shows just how much Luna and her mama have grown over the past three years. If they're this funny now imagine how funny they'll be three years from now.