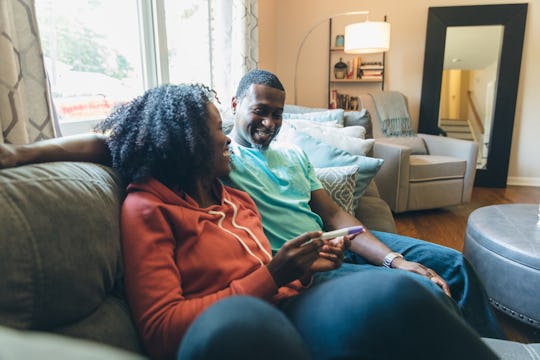 Diversity Photos/Photodisc/Getty Images
15 Pregnancy Announcement Instagram Captions That Will Get You All The Awws
There's nothing quite like telling your friends and family that you're expecting. Thanks to social media, expectant parents can announce their big news to their entire network with just a few hashtags and clicks. From funny and silly to sappy and sweet, these sample pregnancy announcement Instagram captions are the perfect way to get an automatic "aww" out of anyone who sees them.
You can inject a bit of sarcasm or be as clever, cheesy, or sentimental as you like. Whichever way you go, it'll be a lot easier than licking dozens of stamps or making tons of phone calls — though friends and family on your A-list definitely deserve a ring.
Back in 2017, Queen Bey took the pregnancy announcement game to the next level when she took to Instagram to share the news of the latest additions to the Carter family. Her post announcing her pregnancy with twins received over 6 million likes and nearly 340,000 comments within the first eight hours, according to People. And even if you're not quite hitting those numbers, your own pregnancy announcement can go viral throughout your network (and their network's network) pretty quickly.
So if you are looking for some inspiration to help you and your partner come up with a creative way to share your excitement, this list has you covered. From the classic to cute to downright hilarious, there are plenty of great ideas out there that will allow you to express your personality.
This article was originally published on