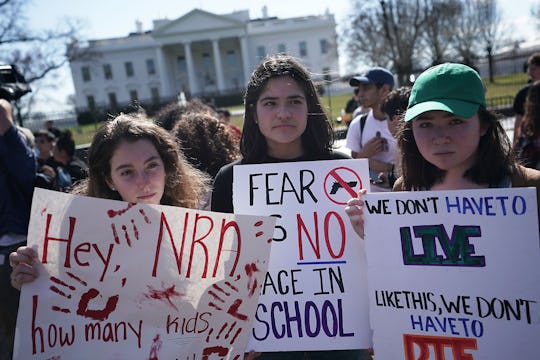 Alex Wong/Getty Images News/Getty Images
15 Powerful Quotes To Put On Your March For Our Lives Signs
If you're one of the thousands of people preparing to descend on Washington, D.C. on March 24 to protest gun violence in our schools (organizers are expecting up to 500,000 attendees, according to The Washington Post), or even if you're planning on participating in a local event, you might be looking for a quote for your March for Our Lives sign. But what to say? To adequately express the feelings of many of us on the topic, the signs would have to be as big as billboards, not poster board. What are some short but still meaningful phrases?
Of course, no one is required to bring a sign to a protest. Still, it's undeniable that the presence of signs at rallies adds a visual sense of urgency and community that not only makes the moment more meaningful but lends a sense of context and narrative to photos for years to come. This has been the case throughout history, but now in the age of social media, signs are perhaps even more powerful than ever: With just a couple of clicks, photos of these visual messages and the people carrying them can be shared around the world, proving that these feelings are attached to actual humans — and we're all going to have to come together to create change.
Read on for some inspirational words.