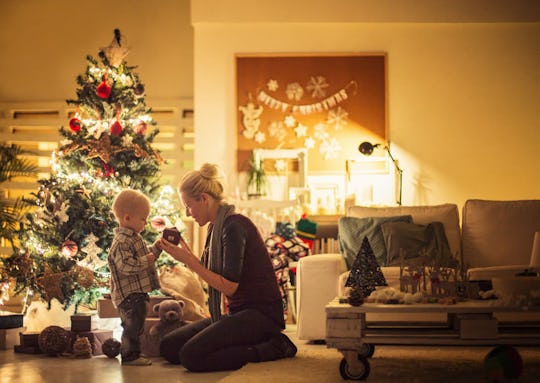 Lumina
If You're Feeling Sentimental Come Xmas Eve, These 15 Insta Captions Are For You
When you're a kid, Christmas Eve feels like the longest day of the year — those hours of waiting for Santa to finally show are endless. But as an adult, the day flies by too quickly as you try to wrap a few more gifts and soak up as much quality time with your little ones as possible. These 14 sentimental Christmas Eve captions will capture the overwhelming love you're feeling for your fam in the hours before St. Nick visits, and save you the trouble of trying to think of one yourself.
Although Christmas Eve can definitely be stressful as you try to finish up all of your last minute holiday tasks, it's also one of the best days to appreciate everything beautiful about the season. The kids are all a flutter, wondering when Santa will finally come, as Bing Crosby croons "White Christmas." Your decorations will be the most beautiful they have been all season, with cookies waiting for St. Nick and presents piling up under the tree (better snap a pic of the pretty piles before the kiddos tear into them the next morning). And when you finally turn the lights out to go to bed, your house feels quiet and peaceful, and it really does seem like there's something magical in the air. Who wouldn't feel sentimental?
So read on for 14 captions to go with the nostalgic mood and sweet pictures you'll take, and enjoy the magic of Christmas Eve while you can.