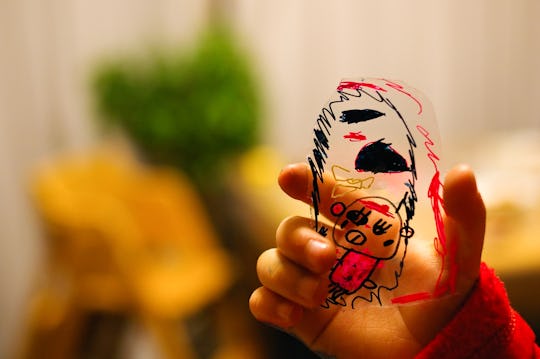 Akiko Aoki/Moment Open/Getty Images
Shrinky Dinks Are Cooler Than Ever, So Here Are 15 Things To Do With Them
Want to make your kids' eyes widen with amazement and wonder? Show them a little "magic" (or what appears to be magic, anyway). With a few Shrinky Dink craft ideas, you can look like a true magician to your kids. What's more magical than their own drawing transforming from paper to plastic?
If you didn't play with Shrinky Dinks as a kid, the craft involves drawing something on what seems like a piece of thick paper, cutting it out, and baking it in the oven. That "paper," which is actually plastic, curls and crinkles as it heats up and ultimately ends up being a smaller, thicker, hard plastic replica of the original drawing. What looks like magic to your kids is actually a chemical reaction, according to Smithsonian Magazine: "By nature, the polymer chains within the polystyrene are bunched up and randomly clumped together, but the heating, rolling and cooling process forces them to straighten out and get into a more orderly configuration. All the polymers want to do is bounce back into their more disorderly arrangement and they are able to do this when the polystyrene is heated again."
It's up to you whether you want to use this craft as credit for your child's homeschooling science course, or keep the illusion that you're the parent-version of Houdini. Either way, here are some fun Shrinky Dink ideas to try.