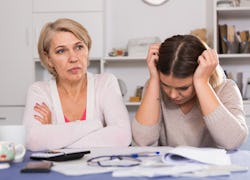 15 Signs You Have An Emotionally Abusive Mom, According To Therapists
JackF/Fotolia
Here's what experts advise
If you and your mom are best friends-close, you might not even comprehend a relationship that doesn't go that way. But the mother-daughter dynamic can be tricky, and, if you look closely, it's possible you'll see signs you have an emotionally abusive mom, which, of course, can affect your relationship with her (as well as, potentially, with others).
"There are many different signs of an emotionally abusive mom," Celeste Viciere, LMHC, a licensed mental health clinician, author and host of CelesteTheTherapist podcast, tells Romper in an email exchange. "It's important to note that you cannot change who your mom is or how she is choosing to treat you. You do, however, have control over what you allow. If you are finding yourself as an adult in this toxic and emotionally draining relationship, you have to ask yourself, 'How do I want my relationship with my mom to look?' We may not have control over how mothers treat us when we are younger. But once you are an adult, ultimately, she will treat you how you allow her to treat you."
It's worth noting that while there are of course some parents who are intentionally abusive, it's often the case that mothers don't realize the harm they're causing and aren't consciously trying to hurt their kids.
"Commonly, the perpetrator of emotional abuse does not know that she is being abusive," Andrea Matthews LPC, NCC, wrote for Psychology Today.
To that end, it's important to have a conversation with your mom (as non-confrontationally as possible) where you let her know exactly how her actions make you feel. If you don't feel equipped to start this talk on your own, consider scheduling a joint therapy session.
"[W]e need to remember that before they were our mothers they were women with their own incredible strengths and their own severe limitations, their own passions and their own unmet dreams," Dr. Deborah J. Cohan, Ph.D., an associate professor of sociology at the University of South Carolina, Beaufort, tells Romper by email. "If we choose to become mothers, or if we do not, we have the chance every day to re-mother ourselves, regardless of what an emotionally abusive mother has done to us."
Whether your mother joins you in therapy or not, counseling can be crucial in learning how to stand up for yourself. Setting boundaries can help all of you deal with the situation. And encouraging your mom to get help is just as important as doing so yourself.
This article was originally published on