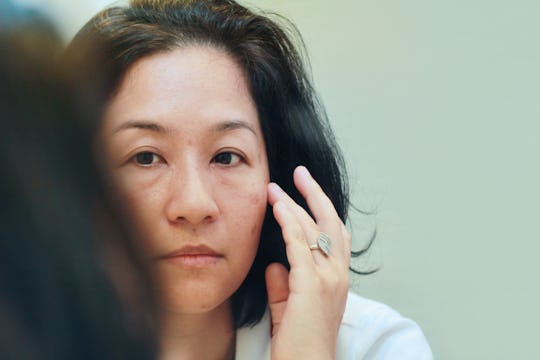 Mama Belle and the kids/Shutterstock
15 Subtle Changes To Your Face That Can Be A Sign Of A Health Problem
Checking out your face in the mirror isn't just about feeling yourself. It's a convenient way to keep track of your health as well. Knowing about the subtle changes to your facial appearance that can be a sign of a health problem is smart, after all. In fact, practicing your selfie game might help you stay healthy.
As it turns out, many different health issues can show up on a person's face. Anything from anemia to thyroid problems can produce symptoms that show up on the face. Knowing about these signs and symptoms is a helpful way to protect your own health, as well as the health of your loved ones. Just keep an eye out for these unusual facial symptoms.
That said, this isn't a reason to freak out about every little spot on your face. For the most part, a pimple is just a pimple. But if you have any real concerns about these signs showing up on your face, then visit your healthcare provider for a checkup. It could mean something else is going on in your body that needs medical attention. Read on to find out what your face could be saying about your overall health.