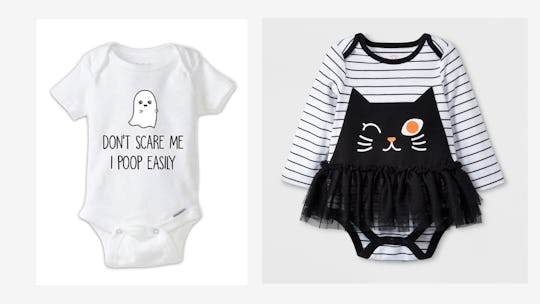 Amazon, Target
15 Super Cute Baby Onesies For Halloween, Because You Just Can't Help Yourself
Your baby's first Halloween is a super exciting milestone, but you might want to keep the whole costume situation a little simple this year. After all, there's nothing scarier than struggling with a fiddly costume during a diaper blowout. That's why these super cute Halloween onesies are the perfect way to dress up your baby. They're still festive and fun, but easy enough to change in a hurry.
Whether you're planning a big Halloween party, going out trick-or-treating, or just hanging in for the evening, these neat outfits will make your kid perfectly spooky for the occasion. They make a super easy Halloween costume, as well as a festive outfit to enjoy wearing all October long. And if you're a Halloween nut like me, well, these onesies can serve as year-round outfits for your kid. There's no rules when it comes to spooky stuff, after all.
Although your kid might not remember this first Halloween, it's sure to be an important celebration for you. Just imagining all the years of costumes to come is probably pretty thrilling. At least you get the option of taking things a little easy this year. Whatever you choose, be sure to take tons of pictures, because it's a very special night, after all. Enjoy dressing your little ghoul for this year, and all the Halloweens that follow.