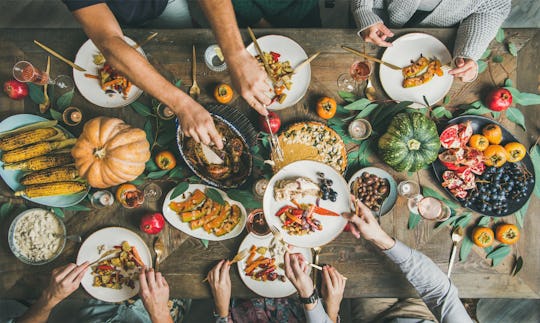 Shutterstock
15 Vegetarian Thanksgiving Recipes That Will Even Make Meat-Lovers Drool
Turkey is traditionally the star of the Thanksgiving table, but if you're a vegetarian, it's completely off-limits. You can still have an epic, meat-free holiday meal without feeling like you're missing out on anything, however, because there are so many amazing vegetarian Thanksgiving recipes out there to choose from.
You might not realize it, but fall is actually a great time of year for meat-free cooking. That's because so many vegetables are in season, including brussels sprouts, carrots, cranberries, squashes, sweet potatoes, and more. You'll find delicious recipes that include all of those ingredients, plus many more, below.
Many of these dishes are also easy to make ahead and simply pop in the oven just ahead of your Thanksgiving feast. Considering how hectic the day can become (and how easy it is to get off of your cooking schedule), that's a great bonus. You don't need any special equipment to whip them up, either — just the stuff you've probably already got in your kitchen.
Here are 15 recipes that will leave any vegetarian joining your meal feeling stuffed and satisfied this Thanksgiving. And even your meat-eating guests will probably be relieved to have some flavorful dishes to balance out all the turkey they plan on having.