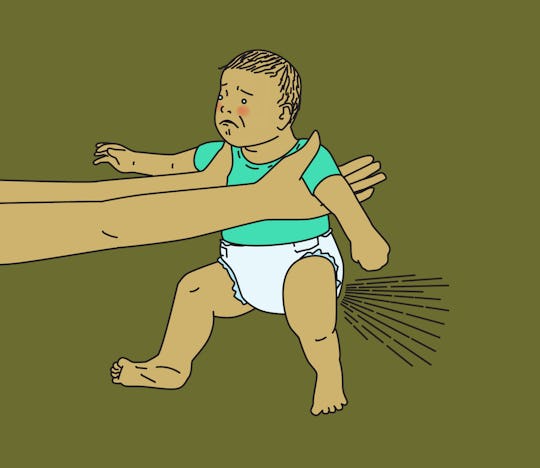 15 Women On What You Can Honestly Expect When You Bring Baby Home (Hint: The Word "Exhausted" Appears 7 Times)
Am I the only one who only has really fuzzy, vague memories of my baby's first days at home? It's like my mind has compressed the long hours of pacing, crying, trying to nurse, calling the doctor, and forgoing my own sleep to watch him sleep into one humorous montage, like something out of an quirky comedy about having a baby. Oh, and there was also that time his dad and I packed him up and took him back to the hospital ER on his second day home because we thought his umbilical cord stump was infected (it wasn't.) The doctor was amazing though, and pleasantly told us that the bulk of his job was reassuring new parents. He gave us the chance to ask all the burning questions we'd built up in our son's first 24 hours outside the hospital walls. He knew, as I think all seasoned parents know, that the early days are practically guaranteed to be a complete mess. A beautiful mess, don't get me wrong, but a mess nonetheless.
And I don't think we were expecting things to look and feel and play out exactly as they did. All the reading we'd done before our kid was born has done well to equip us with information and facts, but once we were living that newborn life, we were turned inside out and flummoxed trying to figure out if what we felt and thought and generally what are lives were like in that moment, was normal. Because so much of it — the feelings especially — didn't match up to anything we'd heard before. So either 1) we were terrible parents, 2) our friends were intentionally hiding the truth from us because they wanted us to suffer, or 3) people in general are not used to being super direct and brutally honest about what happens when you bring home a new baby.
So on that note, we've rounded up some super-smart moms to give us their best words of wisdom about their first days of motherhood. You might want to bookmark this one so you can refer back when you're trying to sleep after changing (another) 3 a.m. diaper. You're not alone.