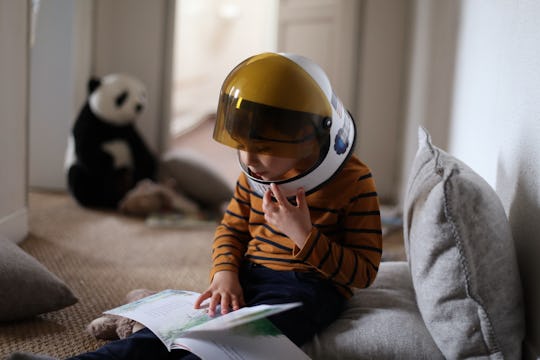 Catherine Delahaye/DigitalVision/Getty Images
16 Adventurous Children's Books To Inspire Your Kid — Even When They're Stuck At Home
Reading a book to your child isn't just a way to relax and soothe them before bed — it can bring great comfort and motivation any time of day. Right now during a global emergency and pandemic quarantine, it feels more important than ever to choose adventurous children's books that will inspire your kid to explore, even if they're stuck in the house. Fortunately, there are plenty of options out there to choose from.
Adventurous children may be a little bit hard to handle, but there are plenty of benefits that go along with that sense of wonder and exploration: studies have found that children who explore and play in nature a lot end up as happier adults, and other research has found that parents who don't allow their children to be independent and take risks can end up hurting them emotionally and behavior-wise. While encouraging your children to get out there and do new things may seem a little scary to parents, it's essential for their growth and emotional well-being.
And in this current climate, these adventurous books can inspire any child to get out of their comfort zone just a little. Whether they're doing that in their backyard or the comfort of their own home, they'll find confidence and fun here.