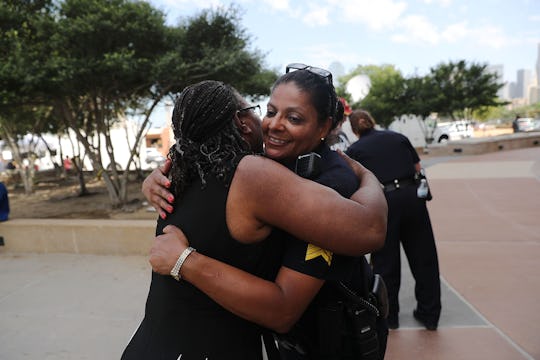 Spencer Platt/Getty Images News/Getty Images
16 Anti-Violence Quotes After The Dallas Shooting To Remind Us Peace Is The Only Answer
It's like the whole country just stopped in its tracks last Thursday night. On a steamy summer evening thousands of Americans took to the streets to protest two successive police shootings of black men captured on video and broadcast across the world. But, amid a peaceful protest in Dallas, Texas, a sniper opened fire on police, killing five cops and injuring seven other people, tearing open long-standing wounds among Americans of color and law enforcement and sparking calls for peace. Here are some of the best anti-violence quotes after the Dallas shooting that capture the horror of a nation reeling in the wake of widespread tragedy.
The deaths of Alton Sterling in Baton Rouge, Louisiana, and Philandro Castile outside of St. Paul, Minnesota, were horrifying. Two men, American citizens, killed in plain view following what appeared to be routine interactions with police. People were outraged and wanted to call for an end to the violence through protest. But one lone gunman ratcheted up the fear and anxiety by targeting and murdering police officers committed to offering protection to protesters trying to change law enforcement. It was a uniquely American moment, where people have the right to stand up against their government, and the integrity and decency of people who hold positions of authority to allow space for criticism. But that all changed in a moment when shots were fired on those police officers.
But amidst all the anxiety came calls from Americans everywhere for peace, calm, and non-violence against their fellow citizens. In that spirit, here are a few of the best notable quotes on nonviolence from history.
1. Cesar Chavez on the power of nonviolence in our own lives
2. Dalai Lama says nonviolence is the only solution
3. Dr. Martin Luther King, Jr. on driving out the darkness
4. Mahatma Ghandi on the price of an eye for an eye
5. Thomas Edison on the evolution of peace
6. Mother Theresa on losing peace
7. Nelson Mandela on the origins of hate
8. Bishop Desmond Tutu on restorative justice
9. Abraham Lincoln on making friends of enemies
10. Jimi Hendrix and the power of love
11. Buddha on speaking words of peace
12. Henry Ward Beecher on compassion
13. Billy Graham on reacting with a warm heart
14. Leonard Bernstein on peace through music
15. Joan Baez on organized love
16. John Lennon on how violence gives power to the system's game
All of these quotes can help serve as a reminder that there are ways people can change and stop violence — through protest, perseverance, and with understanding.