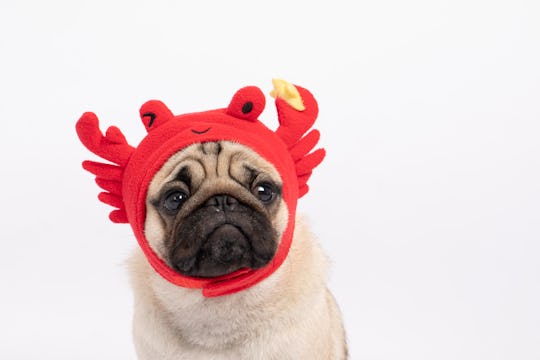 Yuttana Jaowattana/Shutterstock
16 Dog Names For Sensitive Pups Born Under The Sign Of The Crab
If you're adopting a new canine into the family this summer, then consider taking some inspiration from the stars when it's time to pick a name. The Cancer dog names are great for any pups born or adopted during the height of summer, aka Cancer season. It's a wonderful time of year to bring home a new dog with a beautiful (and not at all crabby) name.
First, here's a quick review about the zodiac sign known as Cancer. Those born from June 21 to July 22 fall under the sign of the crab, Cancer, according to Astrology.com. A water sign, Cancers are known for being moody, emotional, and highly devoted to their loved ones, as further explained in Astrology.com. Honestly, this sounds a lot like most dogs I know.
Plus, these names are cool for many reasons. If you know your dog was born in late June or early July, then these names can reflect their astrological sign. On the other hand, simply adopting a dog during Cancer season is a great reason to consider these cool names based on the zodiac. Honestly, they're fantastic monikers for dogs born or adopted any time of year. Drawing inspiration from words about water, the constellation itself, and of course crabs, these names for Cancer dogs are totally stellar.