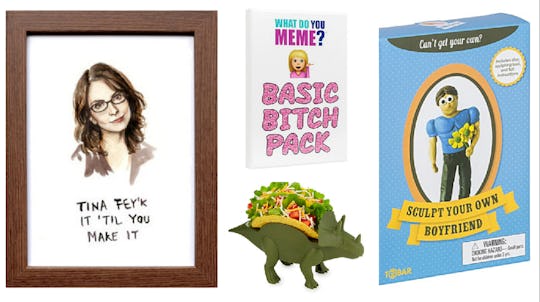 Etsy, Amazon, Uncommon Goods, Selfridges
These 16 Funny Secret Santa Gifts Are Just Too Good
It's already December, and Christmas is only a few weeks away. Hopefully, you already got all your family's gifts out of the way, even your sister's new weird boyfriend. But what about your Secret Santa gift exchange you agreed to? Let's admit this is always the best way to exchange gifts. Not only does it save you from having to buy presents for a whole group of people but it's fun too. Everyone gets a gift! And since it is Christmas you'll want to buy a funny Secret Santa gift that doesn't suck.
When buying a Secret Santa gift you want something that is personal to the person you've drawn. A gift that as soon as they open it, they will want to know immediately who their awesome gift giver was. It seems that whenever this game is played, everyone hopes that their closest friend drew their name — that almost always guarantees that they'll get something they actually like. No matter how close you are with your Secret Santa though, you can still get them a hilarious gift that they will love, or at least give them some great laughs. Whether it is a funny book, selfie stick, or even a silly mug, you want something that not only expresses their personality but is silly too.
These are some of the funniest Secret Santa gifts, and they're all under twenty dollars. How could you go wrong?