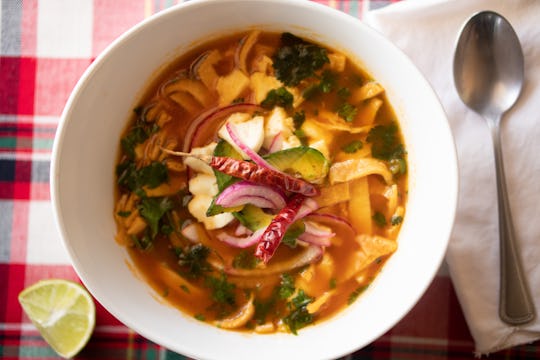 Shutterstock
16 Tasty Soups To Make In Your Slow Cooker For Those Cozy Nights Ahead
The best soups don't come out of a can or in a box, they come from hours of slowly simmering and stirring so all the flavors mingle together. But really, with everything else happening in the fall and winter months, who has time for all that? This is why slow cooker soup recipes are amazing; they replicate the taste of a meal you've labored over all day, without having to put in too much effort. Plus using a slow cooker means you're not trying to throw dinner together at witching hour, when your toddler is melting down in the kitchen because they can't watch one.more.show.
I look forward to October when I reintroduce soup back into my meal repertoire (I refuse to acknowledge summer's gazpacho as soup unless salsa, too, gets the recognition it deserves). The best thing about these bowls of goodness? They're a full meal and you don't need a side dish (except for maybe some crusty bread).
Plus you can take it in so many directions. From comforting chicken noodle, to spicy ramen, or healthy minestrone, here are 16 of the best slow cooker soups that are soup-er filling (I'm so sorry) and will warm your family up during these cold months ahead.