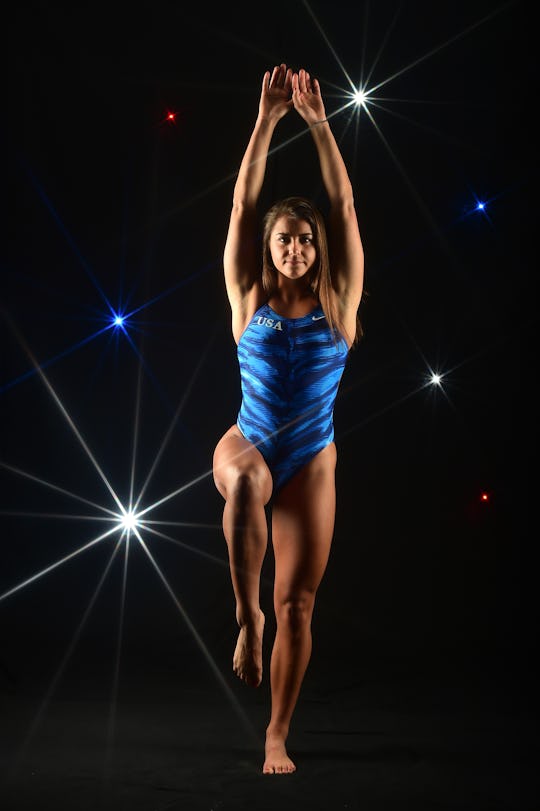 Harry How/Getty Images Sport/Getty Images
17 Facts About Kassidy Cook, The Olympic Diver Everyone's Talking About
Kassidy Cook might just seem like your everyday 21-year-old, but she's poised to take home some hardware in the Olympic 3-meter springboard competition over the weekend. Her Hollywood good looks and sick dives have grabbed plenty of attention, most notably when she showed up on the arm of fellow diver and heartthrob Tom Daley after he won a gold medal at the 2012 London Games. But now it's her turn. So here are 17 facts about Kassidy Cook to help you get the know this breakout Olympian on the cusp of becoming a household name.
After making the team, she said "I love being challenged and having to compete well under pressure," according to USA Today. "It was a really good learning experience. I dove well, but the best is yet to come baby."
You can watch Kassidy compete in the 3-meter springboard competition starting on Friday. The semifinals are on Saturday and the finals on Sunday evening from Rio. Here's wishing Cook and all of her teammates the best of luck.
But based on what she's saying, luck might not have anything to do with her quest for a gold medal in Rio. "I'm a fighter; I never gave up," she said, according to USA Today. "So many times I was injured I always got back up to be the best that I can be. … To overcome all of those obstacles has made me a stronger person."
Here are a few additional facts about Kassidy:
1. The Cook Krew
All of the 6 kids in Kassidy's family have names that start with a "K" including siblings: Kevin, Kara, Kelsey, Kylie, and Kendall, according to the Team USA site.
2. The Nails
Her pre-competition ritual is a mani-pedi, according to NBC.
3. The 2012 Heartbreaker
Kassidy missed making the cut for the 2012 Olympic team by just .42 points, according to Team USA.
4. Her Soundtrack
Her fave tracks to listen to during competition include artists Drake, Major Lazer, and Taylor Swift, according to Team USA.
5. She been diving her whole life
Kassidy started diving at just 3 years old, according to Team USA
6. She loves GOT
The diver says, according to Team USA, her trivia game is strong in the areas of Game of Thrones, Star Wars, and Harry Potter.
7. How She Keeps Focused
Kassidy will often color or sketch between dives at competitions, according to Team USA.
8. The 305B Dive
Her favorite dive is the 305B, according to Team USA, Here's what that feat looks like. Wow.
9. Tiny But Mighty
Kassidy is just 5'3" tall.
10. She's A Texas Girl
Kassidy's hometown is Woodlands, Texas.
11. She Put College On Hold For Rio
She attends Stanford University, but took the 2015-2016 school year off to train for competition in Rio. Kassidy studies Communications, according to Team USA.
12. Kassidy's hero
According to Team USA, her favorite diver of all time is Wu Minxia.
13. She's Dad Lifelong Olympic Aspirations
NBC reported, when Kassidy was little, she used to tell her mom she wanted to compete in the "Balimpics."
14. The Injuries
Cook had to fight back from injuries after missing out on the 2012 Olympics. She has major reconstructive shoulder surgery, knee surgery, and then an additional shoulder surgery.
15. Her dream gig
Kassidy's dream job is to travel the country and eat delicious food like Guy Fieri, according to NBC.
16. Her Diet
But the athlete has a pretty strict diet. Kassidy stays away from processed food, gluten, dairy, and soy, but according to NBC, she says she gives herself the occasional cheat day.
17. A Family Tradition
Kassidy's sister Kara is also a diver. She competed at Purdue University, according to Team USA.