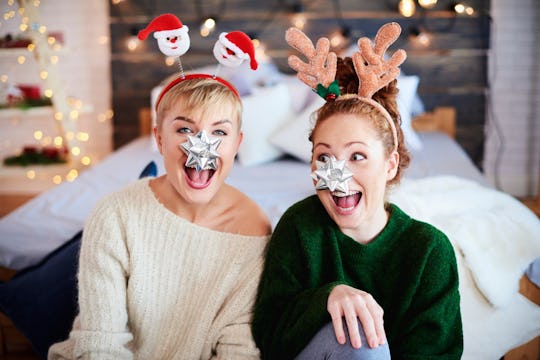 gpointstudio/Shutterstock
17 Happy Christmas GIFs That Are So On Your Level Of Holiday Cheer
There are people who like Christmas, and then there's you. You begin your countdown for next year's celebration on December 26, you make homemade stockings for your kids before they're even conceived, and you can recite every word to It's A Wonderful Life in your sleep. Your love for St. Nick knows no bounds. Even if other people don't quite get your excitement for the holiday, these 17 funny Christmas GIFs definitely do.
Being one of the few true Christmas enthusiasts in your demographic can be rough. People give you the side eye when you show up to work in Santa-themed outfits for three weeks straight, though they do warm up considerably when you present them with homemade holiday themed cookies. Your partner has most likely had to ask you to stop playing your seasonal Spotify playlist so loudly countless times (that's why you asked them for those fancy headphones for Christmas last year, but whatever). Not even your kids can get on your level, and they still believe in Santa Claus! Sometimes it can feel like nothing can get you quite like a meme or GIF, and your situation is no exception.
These 17 Christmas GIFs just get you.