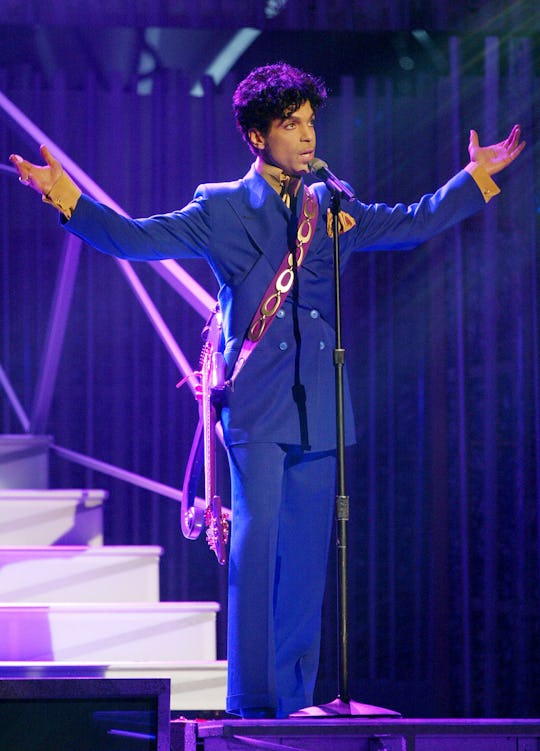 Frank Micelotta/Getty Images Entertainment/Getty Images
17 Of Prince's Most Iconic Outfits, Because He Could Rock A Feather Boa
The world is still trying to absorb the shock that Prince — the pop star whose four-decade career touched just about every aspect of art and culture — has died at only 57 years old. His impact on music is obvious, powerful, and undeniable, but Prince left his mark on fashion too. In honor of, and to help us remember his larger-than-life presence on the world of everything funky and fresh, here's a look at Prince's most iconic outfits over the years.
Prince's wardrobe was a part of his music. It was just another way he tried to draw us all into his world, which was fantastical, sexy, and fearless. Most intriguingly, Prince was able to maintain his animal sex appeal all while wearing what Dave Chappelle hilariously once referred to as a "blouse" in the killer sketch where Charlie Murphy describes a late-night pickup basketball game with Prince. They made fun of the blouse, sure, but at the end of the story Prince dominates them all.
His fashion sense was a lot like his lyric from his early hit "I Would Die 4 U."
"I'm not a woman. I'm not a man. I'm something that you will never understand." But we didn't have to understand His Purple-ness to get it and love it. And that was his unique trick. To push every conceivable boundary of what a man dressed like, from the 1980s through his fierce appearance at a March 3, 2016, Golden State Warriors basketball game, at which His Highness sat court-side with a huge afro, sunglasses, and a cane. And it was flawless.
Let's take a look at just a few of Prince's looks that defied definition and started a fashion revolution for generations.
Here's Prince from the Purple Rain era rocking the world in his blouse.
No shirt, no problem.
High-waisted polka dot pants and reverse shirt ensemble? On fleek.
Wearing a fedora before fedoras were cool.
Three words: purple, sequined, cape. This was his look for the Oscars in 1985.
No words necessary.
Feather boas are never tacky... at least not on Prince.
Matchy-matchy with Madge (Madonna).
Here's his infamous a*s-less pants from the 1991 MTV VMAs.
Hooded Prince.
Remember when he protested his record label by writing "Slave" on his face?
A subdued, all-gold look.
From the 2007 Super Bowl performance when he sang Purple Rain in a downpour.
Here's a more recent look, complete with that righteous, natural hair.
Same performance, only with a giant bindi and glasses.
Here he is killing it in a grey suit with a cane.
And here is Prince at one of his last public appearances, rocking the cane once again, court side.
Sadly, the world will be just a little less fly now that his purple reign has ended far too soon.