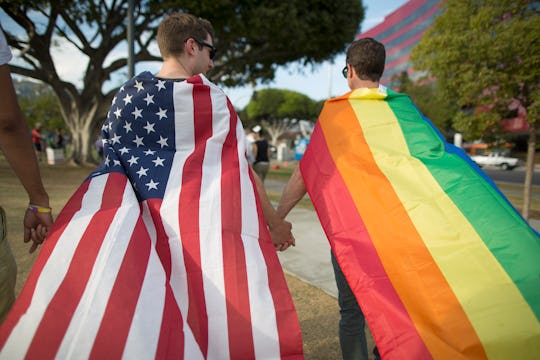 David McNew/Getty Images News/Getty Images
17 Quotes That Honor The Anniversary Of The SCOTUS Decision
It's almost hard to believe that it's been a year since the Supreme Court of the United States of America (SCOTUS) made the monumental decision to rule that gay marriage bans are illegal and unconstitutional. What is perhaps even more difficult to believe is that there was ever a time when two people who loved each other weren't able to get legally married solely because of their gender or orientation. Especially in light of the recent mass shooting at the gay nightclub, Pulse, in Orlando, it feels important to acknowledge that ruling with quotes that honor the anniversary of the SCOTUS decision on gay marriage.
The right to marry any person, regardless of their gender or orientation, is meaningful not just in a romantic or celebratory way, but because it serves both as a validation of the union and offers protection to individuals should their spousal partner pass away or encounter health issues. Yet those are only a few of the reasons why the SCOTUS decision was such a monumental and progressive step for the LGBT community in the United States.
Though there will never be enough words to fully encapsulate what that ruling means to a person, there are some profound and touching quotes that beautifully honor the anniversary of the SCOTUS decision and the day love won.