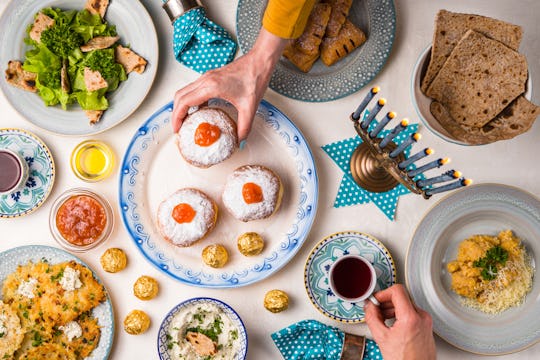 Karpenkov Denis/Shutterstock
15 Yummy Hanukkah Recipes You Can Pull Off Using Your Crock-Pot
I've been to plenty of Hanukkah celebrations throughout my life, and nothing makes me feel more tethered to my religious heritage than lighting a menorah and eating latkes with my Jewish friends. If you'll be hosting or attending a celebration of your own, these 15 Hanukkah recipes to make in your Crock-Pot will streamline your cooking, making celebrating all week long a little easier.
Obviously, you're going to have the traditional Hanukkah dishes like latkes, sufganiyot, and rugelach at some point during the week, especially because of the story these foods represent. As HISTORY explained, the Maccabees were rebuilding the Second Temple after it had been destroyed by religious prosecutors, and someone lit a candle that seemed to only have enough oil to burn for one night as they were rebuilding. But for some reason, the candle burned for eight nights despite the lack of oil, and it was deemed a miracle. Now the miracle is honored every year through Hanukkah, which is why Jewish people light candles on the menorah and why most of the food served is cooked in some kind of oil, the site explained.
All of the traditional foods are delicious, but some of them are pretty time consuming to make. Enter your Crock-Pot, which can provide you with some time-saving options for the weeknights of Hanukkah. It's not a miracle, but relying on a slow-cooker should make your life a little bit easier.
This article was originally published on