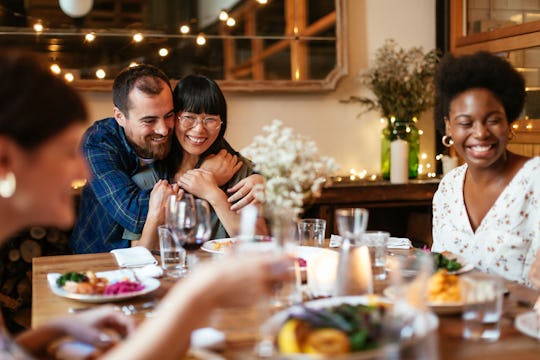 BONNINSTUDIO/STOCKSY
18 Easy Crock-Pot Recipes That'll Be A Total Hit At Friendsgiving Dinner
Controversial opinion: Friendsgiving is superior to Thanksgiving. I'm sure you love your relatives, but Friendsgiving gives you the chance to spend time with the people you're actually grateful for, and you don't have to worry about weird political arguments with distant relatives you barely know. Plus, it's usually done potluck-style, so you get to make a contribution you'll actually like as opposed to being forced to eat whatever the host made. If a Friendsgiving dinner is on your cal, slow cooker recipes are the way to go.
Everyone is always super busy on and around Thanksgiving, whether it be because they're running a race or trying not to miss a second of the Macy's Day parade, finding the time to actively cook can be a struggle. And if you're trying to make a full Thanksgiving dish when you don't have a day off, forget about it. But with a slow cooker, you can prepare your signature dish in the morning and let it cook unattended, so the probability of actually enjoying the party you're attending instead of showing up flustered with a burnt pie is high.
Whether you're trying to find ways to save time or if you just want to try something new, read on for 18 slow cooker Friendsgiving recipes you've got to try this year.