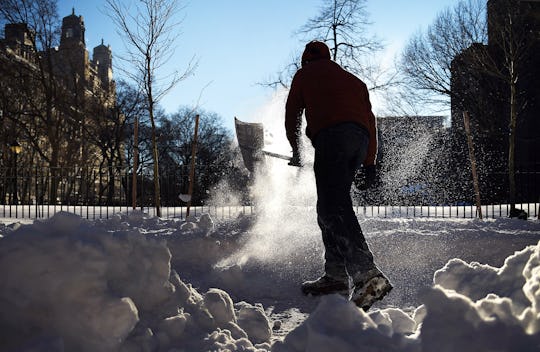 Astrid Riecken/Getty Images
18 Killed By Snowstorm Jonas So Far & Unfortunately, The List Could Grow
Winter Storm Jonas was more dangerous than expected. There have been at least 18 people killed in the monster snowstorm so far, and that list could possibly get longer as the weekend draws to a close. Many of those deaths have reportedly been the result of traffic incidents, highlighting the importance of travel bans and staying off of the roads in blizzard weather conditions. Unfortunately, it can't always be avoided.
In Kentucky, Billy R. Stevens, 59, died tragically in a car crash. A transportation worker, Christopher Adams, was also killed in a seperate incident. Sadly, in Maryland, a 60-year-old man had a heart attack while shoveling snow. Snow-removal was also the cause of death of three more unidentified people in New York.
In North Carolina, Mary Williams, Rosa McCollough-Leake, Madeline Paige Scalf, and a 4-year-old boy were all killed in unrelated traffic accidents. In Tennessee, a woman by the name of Stacy Sherrill died in a car accident (her husband survived). Also in Tennessee, one person was injured and another killed in a deadly car accident.
Heartbreakingly, the list didn't stop there. In Ohio, a young boy was killed while sledding after being struck by a passing vehicle. In Virginia, there were a total of three storm related deaths, two of which resulted from hypothermia and another from a car accident.
The storm was over by early Sunday, but treacherous travel conditions remained, with icy roads and snow-covered power lines creating hazards for people across several states.
Travel bans in New York City were lifted by Sunday morning, but areas like Washington D.C. were still at a standstill because of the storm. (The snowfall was the fourth largest in D.C.'s history, with a total of 17.8 inches.)
In Baltimore, airport officials calculated 29.2 inches of snow; And in West Virginia, officials reported a whopping 42 inches of snow in total. Despite improving conditions in some regions, states like New York, Kentucky, West Virginia, and Pennsylvania were still under a state of emergency as of Sunday afternoon.
With the storm on its way toward the United Kingdom this week, international travelers will likely be unable to make their way across the Atlantic in the coming days. Over 10,000 flights were cancelled because of the storm on Saturday alone, and as of Sunday morning, several domestic flights remained delayed as well.
Jonas was the first large storm of the season, but it doesn't mean it will be the only one — which means that anyone (and I mean anyone) living in areas with bad weather conditions should do their best to stay indoors whenever possible to avoid becoming another tragic name on an already overwhelming list of fatalities.
Images: Astrid Riecken/Getty Images