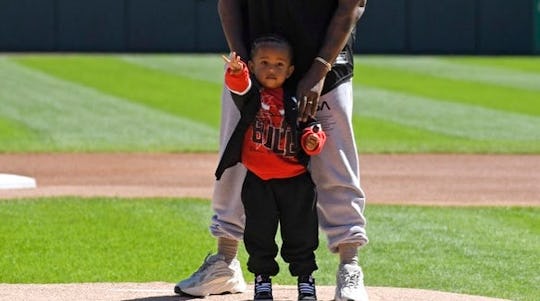 David Banks/Getty Images Sport/Getty Images
18 Sweet Photos Of Kim Kardashian's Son Saint West To Celebrate His 3rd Birthday
It's hard to believe that Kim Kardashian and Kanye West's only son, Saint, turns 3 years old today. On Wednesday, Dec. 5, Mr. Saint West grew up a bit more, and the mom of three adorably celebrated the occasion on Instagram. "I must have done something really special to deserve having you as my son," Kardashian captioned a sweet photo of her little guy. And in honor of his special day, these photos of Kim Kardashian's son Saint are the perfect way to celebrate his birthday and see just how much he has grown up over the years.
Saint might be the middle child — between his sisters, 5-year-old North and 11-month-old Chicago — but his personality always shines in his own unique way. And based on everything people have seen of him and know about him, Saint is super smart and, of course, just adorable. He enjoys going to baseball games with his dad, he's protective of his younger sibling, and even knows how to spell "gargantuan," according to People.
Even Kardashian can't stop talking about her sweet baby (now grown) boy. Kardashian told Ellen DeGeneres in April 2017, during an appearance on The Ellen DeGeneres Show, that Saint takes after her, according to People. "He's my twin," Kardashian said. "He's literally my twin personality. He's so sweet. And he's just such a good boy. Such a good person."
In honor of Kardashian's little twin, these super adorable photos of Saint show just how sweet he is.
His Big Debut
It took two months after Saint's birth for Kardashian to share the first photo of him to Instagram, according to the Daily Dot. The wait was worth it — Saint made his Instagram debut in February 2016 on his late grandfather's birthday.
In a post on her app, Kardashian wrote that she chose that day to share his photo for a special reason, according to the Daily Dot. "I know there is nothing more in the world he would have wanted than to meet his grandchildren. So I wanted to share this pic of Saint with you all."
After that, Kardashian couldn't stop posting photos of Saint — and it's a good thing she did.
All Smiles
You really can tell that Saint is such a sweet boy — his personality shines in the photos taken of him where he smiles.
Island Time
Like Father, Like Son
Although Saint might take after his mom, he clearly loves spending time with his dad.
Family Time
Posing For The Camera
Saint is so good at posing in front of the camera, you can tell that he really takes after his mom.
Cheesin' For Halloween
If Saint loves spending time with his siblings, then he loves spending time with his cousins just as much. This Halloween, Saint channeled his dad in his matching Halloween costume with cousin, Reign Disick.
Inseparable Siblings
Call Him Captain
All You Need Is Love (& A Hug)
Saint has so much love for his younger sister, Chicago, and that shows. Every single photo they take together is so undeniably sweet.
Twinning
Biker Baby
Sweet Tooth
Big Shoes To Fill
Father & Son
Just look at the way that Saint looks at his dad! Adorable!
Angel Baby
Just Chillin'
A Family Affair
Saint looks the happiest when he's with his mom and his siblings — you can't wipe that giant smile off of his face.
Here's to many more years of photos of Saint West to come.
This first-time mom wants to have a home birth, but is she ready? Watch how a doula supports a military mom who's determined to have a home birth in Episode One of Romper's Doula Diaries, Season Two, below. Visit Bustle Digital Group's YouTube page for the next three episodes, launching Mondays in December.