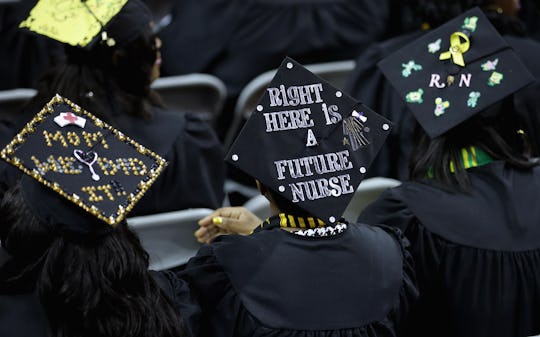 Chip Somodevilla/Getty Images News/Getty Images
18 Super Inspiring Quotes To Put On Your Graduation Cap
I'll admit that when I graduated from high school and college, decorating your graduation cap wasn't just frowned upon, we were threatened with expulsion if we did so much as iron the gown the wrong way. It seems things have loosened just a little in the decade since I walked across the stage to pick up my diploma, and soon-to-be graduates are decorating their caps with incredible artwork and bling. If you're searching for the perfect quote for your graduation caps, look no further.
Whether you're trying to send a subtle thank you to your teachers for helping you get this far, or sharing your wildest dreams for the future with your friends and family, this list of quotes for graduation caps will get you started.
Now, in a throwback to how you started your schooling, you just have to get crafty. Break out the glitter and glue, stickers and sequins, and make sure your friends and family can spot your hat from the crowd. Tipping your hat back on your head ensures more people will be able to see your designs, and then, of course, comes the other major thing that has popped up since I graduated — the perfect selfie for Instagram.