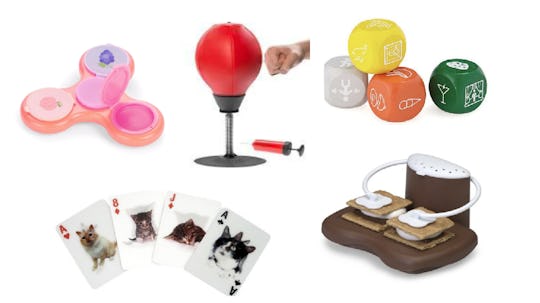 Saks Fifth Avenue, Vat19, Uncommon Goods, Amazon
18 White Elephant Gifts Under $20 That Will Get All The Steals
Grab bags are fun, but they also can be kind of stressful. A White Elephant grab bag, where guests can steal other guest's gifts, has even higher stakes. The goal is not just to get something that someone would enjoy, but something that everyone would want to steal away from everyone else. To help you with this, here's a list of fun White Elephant gifts for under $20.
White Elephants are holiday grab bags that go by many names, such as Black Santa, Pollyanna, Yankee Swap, Machiavellian Christmas, or Greedy Punter, but they all have one thing in common: the expectation that you won't end up with what you expect. Typically, guests sit in a circle around a pile of wrapped gifts. The order of the grab is determined, either by choosing a number out of a hat or by the host. The person who picks number one takes a gift from the pile and opens it. The second person has a choice — open a wrapped gift or steal the gift from player number one. If they steal the gift, the person whose gift was stolen gets to either chose a wrapped gift or steal from someone else. There are many ways to vary this, depending on how many times you allow a gift to be stolen, whether you let people whose gift is stolen replace it immediately or wait for the next round, etc., but eventually the game ends and everyone is stuck with a gift, whether they like it or not.
Obviously, better the gift, the most often it will get stolen. Hence, the pressure to find that perfect White Elephant gift, because you yourself might end up with it.