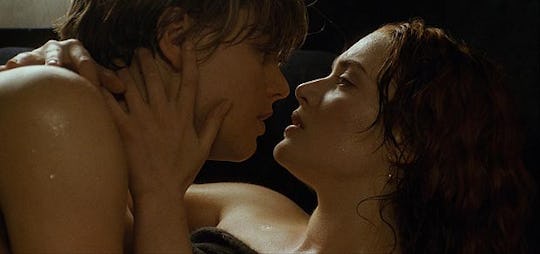 Paramount Pictures
19 '90s Songs Everyone Dreamed Of Doing It To
Before there were the sexy sounds of John Legend, Justin Timberlake, and other ~soulful~ singers of the current decade, we had R. Kelly to "bump n' grind" to get down to along with a bunch of other '90s songs that everyone dreamed of doing "it" to. Maybe at the time we didn't have the appreciation for these songs and their ~sexy~ vibes. But now that we're all adults, sexual terms aren't foreign anymore. And we're no longer smashing our Ken and Barbie dolls together (don't act like you didn't do it), now we're taking a more adult perspective on it. With the list of songs below, you can revisit some of your favorite songs as a grown woman, and appreciate the sexually-charged music in a new way.
Here I present you with a list of songs to get your Jack and Rose freak on to come any "way back Wednesday," a.k.a hump day, or throwback Thursday. Some of the songs are classics (still — hello "Pony" by Ginuwine which I feel still plays in movies and on the radio to this day). Others, well, you may not have thought about some of these in a very long time (but really, you should be thinking about "The Bad Touch"). OK, without further ado...
1. "Bump N' Grind" R. Kelly (1993)
Before Dave Chapelle teased R. Kelly, this artist made a go-to sex song.
2. "Pony" Ginuwine (1996)
This song is more well-known now more than ever after a Vine trend started the "Pony Challenge." Magic Mike's Channing Tatum stripped to it in the film, and his wife also chose this song to give her hubby an epic lapdance to it on the Spike TV show Lipsync Battle.
3. "Too Close" Next (1997)
This song screams middle-school dances.
4. "Truly Madly Deeply" Savage Garden (1997)
Two words: romantic fairytale.
5. "This Is How We Do It" Montell Jordan (1997)
Can't you just picture The Fresh Prince Of Bel-Air getting down to this?
6. "I'll Make Love To You" Boyz II Men (1994)
Boys II Men had all of the motion in the ocean in this hit.
7. "I Wanna Sex You Up" Color Me Bad (1991)
This song screams getting it on.
8. "Boom Boom Boom Boom, I Want You In My Room" Vengaboys (1998)
This is a fun one that you better remember.
9. "The Bad Touch" The Bloodhound Gang (1999)
"You and me baby ain't nothing but mammals, so let's do it like they do on the Discovery channel." 'Nuff said.
10. "2 Become 1" Spice Girls (1996)
You can't add spice to your sex life without the Spice Girls.
11. "Thong Song" Sisqo (1999)
We all sang it in the backseat of our car. I mean, it had the easiest lyrics to recite, probably ever.
12. "Genie In A Bottle" Christina Aguilera (1999)
I mean, it's a classic.
13. "Smooth" Santana ft. Rob Thomas (1999)
Honestly this is a song that you should be listening to all the time.
14. "Nice and Slow" Usher (1997)
Nothing wrong with slowing things down once in a while.
15. "So Anxious" Ginuwine (1999)
Yes, Ginuwine makes an appearance on this list TWICE. But it really is well-deserved.
16. "No Diggity" Blackstreet (1996)
C'mon, this song is self-explanatory: Back it up to this beat.
17. "Doin It" LL Cool J (1996)
Before he was hosting the Grammys (or of the like) and starring on NCIS: L.A., this was LL Cool J.
18. "All My Life" K-Ci & JoJo (1997)
This is one of those songs that I think was in every CD mix of teens of the era.
19. "I Swear" by All-4-One (1994)
Before the Minions took over this song, there was of course All-4-One.