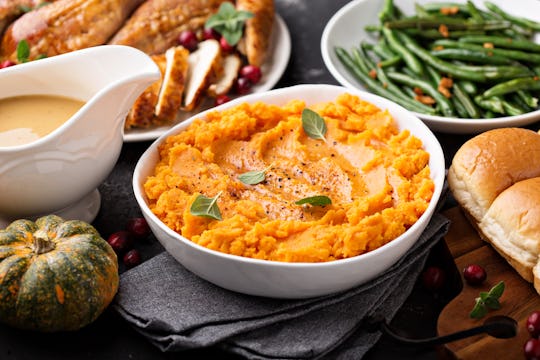 Elena Veselova/Shutterstock
19 Classic Thanksgiving Sides To Make In Your Crock-Pot, Bc It's *Way* Easier
Cooking for a Thanksgiving crowd can be so intimidating, even if you're a seasoned hostess. Your turkey may be the star of the show, but the meal isn't complete without an array of delicious side dishes. When your oven is occupied by your bird for the most day, finding the time and space to whip up those sides can get a little hectic. That's where a slow cooker can be a huge help. There are so many classic Thanksgiving sides to make in your Crock-Pot that will have your guests salivating.
I myself am a devoted Crock-Pot user, largely because so many slow cooker recipes have extremely simple directions: dump everything in, and hit the ON switch. Despite my lack of culinary skills, even I can manage that. If you're not a slow cooker devotee like me, you might be surprised by the huge variety of food you can make in the countertop appliance. Everything from bread to veggies to sides of meats can go in it, saving you the trouble of having to make a cooking schedule to get everything heated up in the oven.
Here are some yummy side dishes you can set-and-forget in your Crock-Pot on Thanksgiving day.