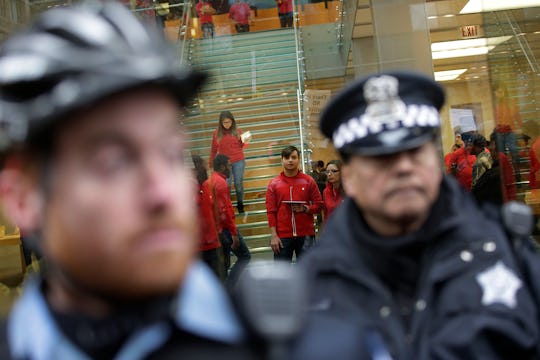 Joshua Lott/Getty
19-Year Old Man & 55-Year Old Mother Of 5 Fatally Shot By Chicago Police Officer
Early Saturday morning, two individuals were fatally shot by a Chicago police officer responding to a domestic disturbance call, according to a statement issued by the Chicago Police Department. Killed were 19-year old Quintonio LeGrier, an engineering major at Northern Illinois University and Bettie Jones, a 55-year old mother of five and neighbor of LeGrier and his father. The Cook County medical examiner's officer confirmed that both shooting victims were black. The Chicago Police Department has not released any information regarding the officer involved in the shooting.
Officers responded to a domestic disturbance call at 4:25 a.m. on the 4700 block of West Erie Street in the West Garfield Park section of Chicago, where they "confronted by a combative subject resulting in the discharging of the officer's weapon," according to the official police statement on the incident. Janet Cooksey, LeGrier's mother and who was not present at the time of the shooting, said that her son had threatened his father with a metal baseball bat, confirmed by dispatch audio released by the police.
According to LeGrier's family, the teenager was shot seven times by the officer. Jones, a downstairs neighbor, was asked by LeGrier's father to flag down once police arrived. According to Jones's daughter, Latisha, she awoke to find her mother with a gunshot wound to the neck. Both LeGrier and Jones were pronounced dead upon arrival at separate hospitals. No gun was recovered at the scene.
Speaking to both the Chicago Tribune and local news station ABC 7, Cooksey, 49, explained why the police were originally called:
He [LeGrier] was having a mental situation. Sometimes he will get loud, but not violent. We're thinking the police are going to service us, take him to the hospital. They took his life.
LeGrier was an only child.
This latest officer-involved shooting comes just two days after protesters marched along the "Magnificent Mile" in downtown Chicago, protesting the death of 17-year-old Laquan McDonald, who was shot 16 times by Officer Jason Van Dyke on of Oct. 20, 2014. An alleged police cover-up around the circumstances of McDonald's death has led to many in the city calling for Chicago Mayor Rahm Emanual to resign. Van Dyke faces a first-degree murder charge.
The shooting incident involving LeGrier and Jones is under investigation by the Independent Police Review Authority. No further statement has been made by the Chicago Police Department nor has a press conference been scheduled at the time of writing.
UPDATE: Chicago Police released a statement late Saturday saying that the 55-year old Jones was "accidentally struck and tragically killed." The statement went on to express their condolences to the victim's family. Chicago Mayor Rahm Emanuel, currently on vacation in Cuba with his family, also released a statement late Saturday night, saying, "anytime an officer uses force the public deserves answers, and regardless of the circumstances, we all grieve anytime there is a loss of life in our city." Emanuel's statement also notes that the officer, whose identity has still not yet been released, will be placed on 30-day administrative duty as the city's Independent Police Review Authority investigates the shooting.
Images: Joshua Lott/Getty; Bill Ruthhart, Chicago Tribune, Chicago Tribune Photo/Twitter