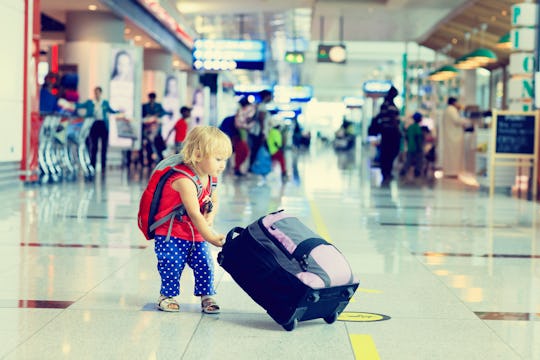 nadezhda1906/Fotolia
These 20 Airport Hacks For Traveling With Kids May Just Save The Day (& The Trip)
You know the crazy people who are running though the airport with a kid or two attached at their heels? Stuff is falling all over the place and they are a hot, sweaty mess before they even make it to the gate? They are so nutty, right? (Oh, wait, that was me.) Truth is, traveling at the holidays is hard enough without adding a kid or two to the mix. But experts say there are some nifty airport hacks for traveling with kids that can help me — err, you — better navigate the friendly skies.
Whether you are the mama who likes to have everything in its place a week in advance of traveling — d*mn you — or you are shoving everything into one bag and often arrive at your destination without underwear, there is a tip in this list that will help you during your travels. Perhaps it's a space-saving cup that hasn't yet made it into your arsenal, or maybe it's simply a tip toward your peace of mind that you'll find useful.
Either way, grab a pen and paper and take notes. While you're at it, let me know how to navigate tantrums in the middle of airport security. Asking for a friend.