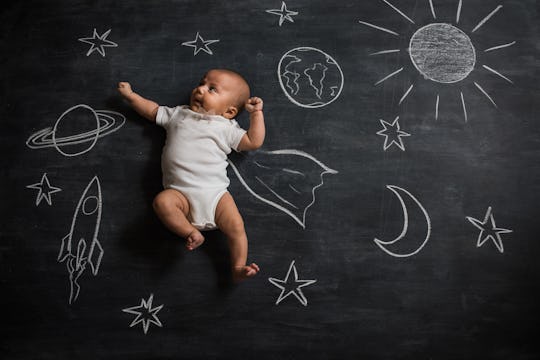 Warchi/E+/Getty Images
20 Celestial Baby Names That Blow All Others Out Of The Galaxy
Doesn't it seem like naming kids is more difficult now than in decades past? It has to be popular, but not too popular, unique but not too unique. Plus, you'll want it to sound right with your last name, and you can't really have a friend whose kid has the same name. It's tricky to pick is what I'm saying, and that's why you might want to consider looking to these baby names after stars to ignite your name search.
Whether you look to a constellation or a single star, turns out the billions and trillions of celestial bodies in the sky offer quite a lot of inspiration for naming your kid. You don't even have to be an astrologer (although you might inspire your kid to be one!) in order to name your child after a star. But you should probably at least bone up on what that name means before you write it on the birth certificate form in the hospital.
You're bound to get questions about whatever your name choice is, so just make sure you love it and are prepared to answer your Aunt Susan when she asks you to point it out in the night sky. Or you can just plug your coordinates into In the Sky, a website that allows you to find out exactly where a star can be seen based on your geographical location, and pretend you know exactly how to follow it. And then start working on that constellation-clad nursery.
This article was originally published on