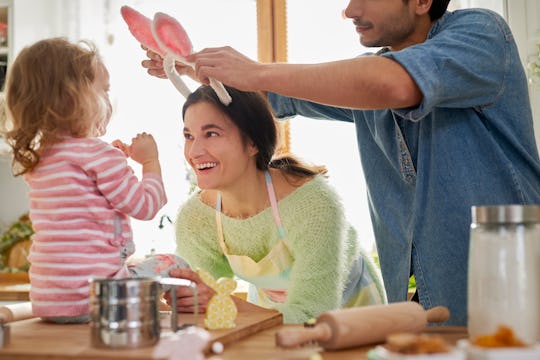 Anna Bizon / EyeEm/EyeEm/Getty Images
'Bunny Butt' Cake & 19 Other Easter Desserts You Never Had Time To Make Before
There's one advantage to spending lots of time indoors if you like to bake, and that's having the opportunity to take on the kinds of complicated recipes you're usually too busy to attempt. Just think of all the amazing Easter desserts you actually have time to make this year. Finally, you can spend hours perfecting your cake decorating, learning how to make homemade caramel, or making tk.
Along with the egg hunts, springtime outfits, and time with family, one of the best parts of Easter is the candy and treats. There's no other time of the year where marshmallows and chocolate are staple ingredients and already-sweet dishes are topped with sugary pastel candies. While missing out on big neighborhood egg hunts is a bummer, there's no reason you have to miss out on all the delicious desserts.
So pull out all those different piping tips you have in your drawer and get your kids involved in the process, too, because if egg shells end up ruining the cake batter there is plenty of time to try again. These Easter dessert recipes for you to try this year.