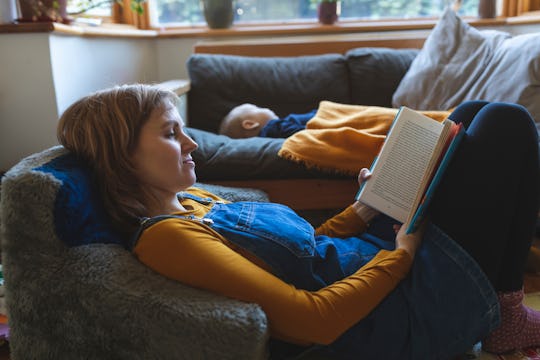 Westend61/Westend61/Getty Images
20 Funny Books To Read In Spurts, Because Your Kids Keep Interrupting You
I am a huge reader. You can bet if I'm not working, I'm reading or listening to audiobooks. And right now, all I want are light-hearted books that I can put down and come back to. I just need a giant stack of funny books to read when kids keep interrupting me so that I don't have to worry about losing a plot line.
Honestly, books that you can read in short bursts that give you joy are some of the best books out there. Humor is an art, and let's face it, not all "funny" books are actually that funny. The books on this list are all genuinely funny and can be put down when your infant needs your boob, your toddler wants his hummus, and your second grader demands that you help them with their math that more closely resembles alien hieroglyphics. You could also read it at night as you chill out with your glass of wine or cup of tea, warm in your bath, before your partner asks you to find something for them in the fridge. (It's right in front of your face, I swear to all the heavens, just look.)
Some of these are essay-based, some are graphic novels, and some are light fiction and breezy enough to be put down and picked up at a moment's notice.
We only include products that have been independently selected by Romper's editorial team. However, we may receive a portion of sales if you purchase a product through a link in this article.