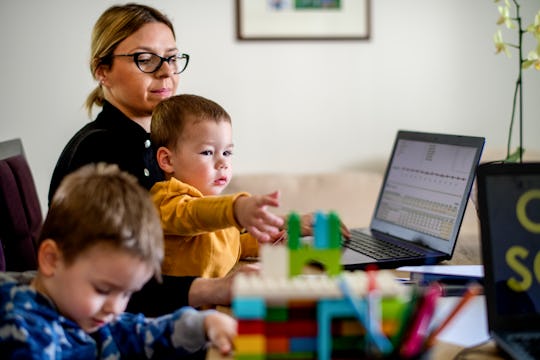 Mladen Sladojevic/E+/Getty Images
20 Instagram Captions For Parents Who Are "Working" From Home (Or Trying)
For a lot of parents, one day everything was totally normal and the next they had to start working remotely and find ways to keep their kids occupied all day... at the same time. Since most employed parents are in the same boat, it's a good time to keep it real with some chaotic photos and Instagram captions for parents who are "working" from home. After all, misery loves company, right?
Anyone who has ever had to work from home with a sick child knows how challenging it can be to focus on producing quality work, and a sick kid doesn't even have their normal level of energy! So having your child (or children) home when they're perfectly healthy (and incredibly bored) while you try to work makes that sick-kid situation seem like a vacation day. It doesn't get any easier if your partner is also home working, either, because now you have the added task of trying to work around each other's schedules and play some serious games of 'chicken' over which one of you will finally back down and miss their "unmissable" meeting or deadline. Basically, it's total mayhem.
Still, there is some solace in knowing you're not alone in this battle. A lot of parents are in the same situation and no one has figured out the balancing act of it all. So, instead of trying to get it just right, try to find the humor in the situation... and then share that humor with your friends on social media. Here are a few Instagram photo and caption ideas to get you started.