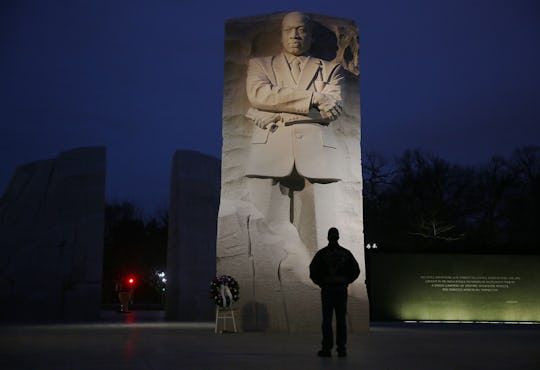 Joe Raedle/Getty Images News/Getty Images
20 Instagram Quotes For Martin Luther King Jr. Day That Honor & Inspire
It's difficult to reconcile the media landscape of our time with that of revolutionaries like Martin Luther King Jr. What would Dr. King say about our culture of learning through pictures and 60-second stories? Because like it or not, that is where we are, and fortunately, there are wonderful beacons for social justice on these platforms, speaking truth to power, and doing more than just finding inspiring Instagram captions for Martin Luther King Jr. Day. People are also conveying his message, and their own, every day. They're doing the hard work, putting in the hours, and the risk of being a public figure like Dr. King, putting themselves on the line for a cause greater than any of us.
Racism is a disease that affects everyone. If you're not the victim of it, you're the beneficiary of its systems of injustice that strangle the concept of liberty into dust. Martin Luther King, Jr. was not a popular figure when he was presenting White America with his gifted orations, noted Newsweek. He held up a mirror to white people across the country and said, "This is what you look like," and he was not thanked for it. Had he had a tool like Instagram at his disposal, I am sure that such a great man, with such marked foresight, would have wielded it like a blade against oppression and like a balm to the oppressed. In his stead, we have people like Brittany Packnett and Layla Saad taking up that mantle, and holding up that mirror.
In the spirit of celebrating his life, here are some possible inspirational Instagram quotes for Martin Luther King Jr. Day.