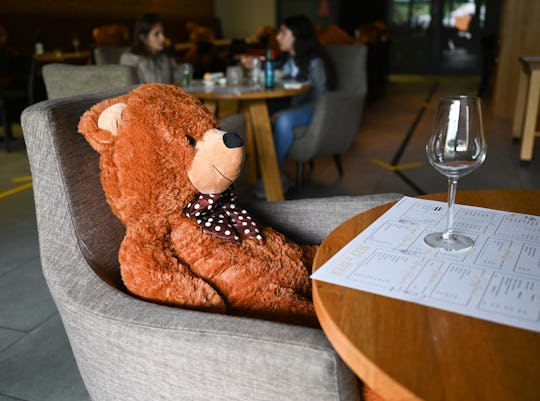 picture alliance/picture alliance/Getty Images
Teddy Bears, Mannequins & More: 20+ Photos Of Restaurants Reopening Post-Shutdown
Across the world, countries are beginning to ease lockdown and stay-at-home orders in favor of cautious and phased reopenings. But while a number of local governments have given businesses like restaurants the OK to welcome back patrons, those reopenings come with a heavy emphasis on social distancing, face masks, and other safety precautions. As a result, eating out doesn't look the same as it once did. In fact, photos of restaurants reopening show dining out has changed, at least for now, as a result of the coronavirus pandemic.
After weeks of forced closures or operating only take-out and delivery services, many restaurants are eager to get back to business in ways that will, hopefully, keep both diners and employees safe. Of course, reopening looks different country to country, state to state, and even county to county. In some areas, restaurants have been limited to offering only outdoor dining while others have been allowed to reopen indoor dining spaces at significantly reduced capacity.
One constant, however, is the emphasis on social distancing. Whether it's filling empty tables with mannequins and pumping in fake background noise to mimic a busy restaurant or erecting structures and partitions between tables to keep diners separated, restaurants are finding unique ways to maintain social distancing among guests.
From private dining spaces to stuffed animal companions, here's how restaurants are reopening with a new focus on social distancing: