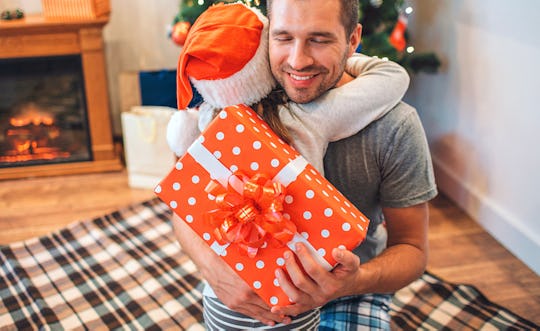 Estrada Anton/Shutterstock
20 Practical Holiday Gifts For The Dad Whose Mantra Is "I Don't Need Anything"
The feeling of giving a perfect gift is unlike any other. It's a true high to see someone's eyes light up when you surprise them with something they really want, and it's even better when they didn't even know they really wanted it. Of course, getting to that moment can be a struggle, and I have the hardest time picking out gifts for the wonderful and oh-so-practical men in my life. If you're in the same boat, here are 20 practical holiday gifts for dad that he'll both love and actually use.
Don't bother asking your dad what he wants for the holidays, because nine times out of 10 he'll respond, "Oh, I really don't need anything." Helpful! However, he definitely does need something, even if he doesn't realize it yet. All of these gifts on this list will make his life a bit easier in some way, and he'll surely be impressed with your gift-giving prowess. Shopping for the sensible and down-to-earth can be a difficult task, but don't fret. Use the items on this list as inspiration to get you started, or make things even easier and shop straight from this list. Your dad is your favorite person, and it's only right to get him what will inevitably be his favorite gift.