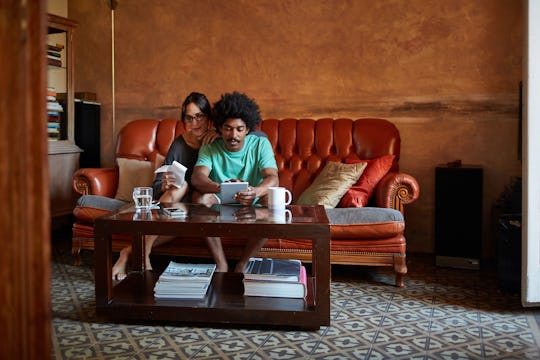 xavierarnau/E+/Getty Images
20 Surprising Ways Living Together Before Marriage Affects You Later In Life
Whether you chose to live with your partner before you were married or not, you likely know a lot of people who did. While it used to be extremely taboo or even not allowed, now many couples choose to move in together before making the commitment to tie the knot. Oftentimes, they say that it's because they want to suss out whether their relationship will work when they're living under one roof. Whether you chose to move in with your partner pre-marriage or you're considering co-habitating, you might want to learn about the surprising ways living together before marriage affects you later in life.
Moving in with your partner is risky, but "it can only be helpful" down the road, Kathryn Smerling, Ph.D., LCSW, tells Romper. That's true regardless of whether or not you stay together, as New York-based divorce attorney Leslie Montanile tells Romper in an email. "A deep human connection that joins a couple together, prior to marriage, will absolutely have a positive effect on each other's lives," she says. "Someone to unwind with, bounce ideas off, share feelings of loss or sadness, celebrate successes, or simply being together can have a powerful and positive impact on the well-being of someone's life."
Living together is a major decision in a relationship, one that can impact the rest of your life in a lot of different ways. Whether you're looking for insight into how moving in together might affect you long-term or wondering how making that decision shaped your life today, you'll definitely be surprised by some of these facts.
This article was originally published on