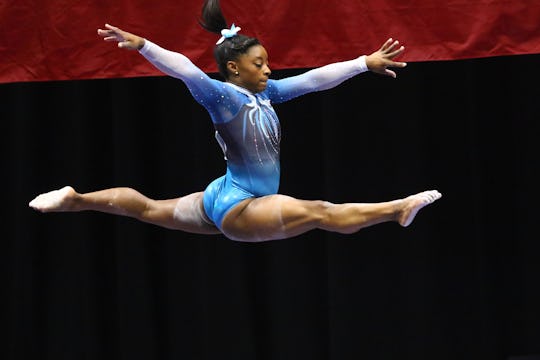 Dilip Vishwanat/Getty Images Sport/Getty Images
2016 Gymnastics Floor Routines at the Olympic Trials Should Highlight Simone Biles' Skills
Simone Biles has been soaring since the first grade. The 19-year-old star of the US gymnastics team, is three gold medals short of becoming the most decorated American gymnast ever. She's also the US team favorite for the floor and beam routines in the upcoming Olympics. The 2016 gymnastics floor routines at the olympic trials should highlight Simone Biles' skills.
Biles explodes onto the floor with a rhythm and attitude in her routines that sets her apart from her competitors. But it is the height of her leaps that make her performances legendary. In her floor routines, Biles soars as high as a basketball hoop, flipping so much, it looks as though time has slowed down for her. There's even a move named after her-- a double lay-out flip and a half-twist before a blind landing.
The olympian also performs with a level of playfulness rarely seen. While some gymnasts noticeably strain themselves to pull of somersaults and leaps, Biles looks like she's having a blast.
'Simone's just in her own league. Whoever gets second place, that's the winner,' " Aly Raisman, captain of the 2012 U.S. Olympic gymnastics team, told The New Yorker.
The Houston-native stands at a mere 4-feet 8-inches, but what she lacks in height, she makes up for in strength. Biles trains six days a week. While she makes it look fun and easy, her routines are anything but. Despite the frills and costumes, gymnastics is a dangerous sport. In fact, a 2015 study of college athletes showed that women's gymnastics has a higher injury rate than football.
Biles' spunky attitude masks a difficult childhood. Along with her siblings, she was taken from her mother, who struggled with drug and alcohol dependency, and placed in a foster home when she was just two years old. Her grandfather later agreed to raise her and her sister.
She began doing gymnastics at age six, a late start for most gymnasts who hit the mat as soon as they can walk. Biles chose gymnastics over cheerleading, after coming home from a field trip to a gym with a note from her teacher saying she enjoyed the sport, her adoptive mother, Nellie Biles, told Us Weekly.
"That just came by as an accident and it was a great accident," she said.
This accidental Olympian is sure to capture everyone's attention at this year's games. With team USA striving for the gold, all eyes will be on Biles.