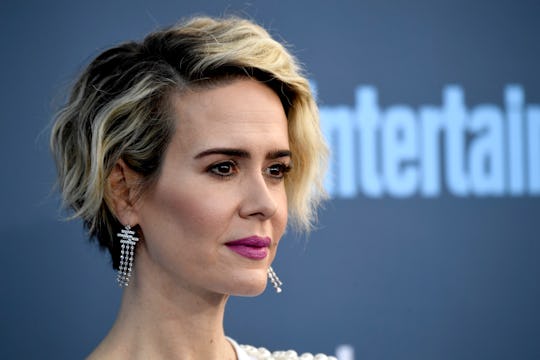 Frazer Harrison/Getty Images Entertainment/Getty Images
2017 Golden Globes Nominee Reactions Are Filled With Lots Of High Praise
The 2017 Golden Globes nominees are finally available, and the road to a globe is already shaping up to be a very hot race. But even though tons of actresses and actors will be vying for an award in a number of different categories, the 2017 Golden Globes nominees reactions to their nominations are a hearty reminder of what the awards show is all about: celebrating the accomplishments of accomplished and talented stars for the hard work, effort, and sheer talent they put into their respective industries.
Since the Globes encompasses TV and film, the pool of nominees this year spans a very wide range of celebrity power. Game of Thrones, Homeland, Jackie, La La Land, Manchester by the Sea, Sully, This Is Us, The People v. O.J. Simpson: American Crime Story, Transparent, Insecure, Stranger Things, and Westworld all had fantastic returns (and for some, fantastic debuts) on the big and small screens. As with last year, 2016 was a fantastic year for television. And as the race for the Oscars begins, films like Arrival, La La Land, Manchester by the Sea, Sully, Loving, Jackie, and Fences already have people curious about who will take home top honors. After all, awards season is just officially beginning.
After announcing the nominees for the 2017 Golden Globes, nominees took to Twitter to share their reactions for the honor of being nominated. The list, as ever, was filled with all the emotions of Monday morning.
Rachel Bloom, Crazy Ex-Girlfriend
Anthony Anderson, Black-ish
Tracee Ellis Ross, Black-ish
Gael Garcia Bernal, Mozart In The Jungle
Kerry Washington, Confirmation
Lily Collins, Rules Don't Apply
Hailee Steinfeld, Edge Of 17
Ryan Reynolds, Deadpool
Chrissy Metz, This Is Us
Lin-Manuel Miranda, Moana
Octavia Spencer, Hidden Figures
Spender earned a shoutout from her co-star Taraji P. Henson for her nomination on Instagram. Henson posted the below photo and captioned it:
YES MA'AM PROUD OF YOU SIS!!!
Gina Rodriguez, Jane The Virgin
Evan Rachel Wood, Westworld
Stranger Things, Best Drama Series
Sterling K Brown, The People V. O.J. Simpson: American Crime Story
Brown's post on Instagram featured an incredibly touching tribute to the people closest to him for their support:
Y'all crazy for this one...& I couldn't be more grateful! Thank you for such a tremendous honor! What a wonderful way to finish off the year...wow! In recognition that no one gets to this place in their career by themselves, I have to first thank my wife and two children for giving me such a clear purpose for being. Ryan, Andrew, Amaré...you guys make this all worthwhile! Jennifer Wiley Stockton...thank you for doing so much, so that I can stay focused on the task at hand. Let us never part. Michael Geiser, you are unsung, sir! (And if you erase this from my statement, we'll have words)! Love you, buddy. To my agents at Innovative Artists, especially my man, David Rose, thank you for giving your boy all the support he could ask for. St. Louis, I rep you 'til the day I die! To all my family and friends there, thank you for making your boy feel special. #ChocolateCardinal y'all know I luvs you! To my artistic family from NYC, including (but not limited to) my friends and faculty at the grad acting program at NYU, thank you for keeping your boy nourished and fed. Literally and spiritually. Namaste #goldenglobes #peoplevsojsimpson
Christian Slater, Mr. Robot
Awards-show season is basically synonymous with the words shock and surprise. The celebs we expect to earn nominations for their roles in TV and film are either nominated according to plan, or their work for the calendar year is overlooked in favor of other stars who've stepped forward and delivered incredible performances. Because the nominations rest in the hands of more than 50 journals in the Hollywood Foreign Press Association, you can expect that not everyone is going to agree that your favorite movie of the year was, in fact, a crowd favorite. Even though it's frustrating, it's all part of the allure of the institution: You never really know what you're going to get or who's going to get it.
Keeping the reactions to the nominees in mind, 2017 is full of unpredictable promise — and because this year was Peak TV and Peak Film, you can expect the unexpected.