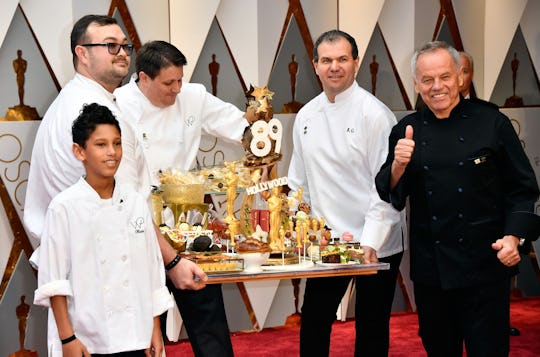 Frazer Harrison/Getty Images Entertainment/Getty Images
The Best 2017 Oscar Memes Highlight All The Fun
Any night as big as the Academy Awards will usually lead to a few surprising or hilarious moments that will go on to live in infamy as internet memes – which is truly the highest honor of all. These 2017 Oscar memes capture the most memorable moments of the night, starting with the celebrity arrivals on the red carpet. Every award show usually ends up having its fair share of meme-able moments (whether it's un unexpected win, an onstage slip-up, or an unforgettable fashion choice) but the Oscars are a particularly momentous occasion. It's the biggest night of the year for movies and anything can happen.
Past Academy Awards have given viewers incredibly meme-worthy moments like John Travolta inexplicably calling Idina Menzel "Adele Dazeem" in 2014 – and her returning the favor the following year by dubbing him "Glom Gazingo." Perhaps the best Oscar memes of all time focused on Leonardo DiCaprio's many nominations and zero wins. Those days are unfortunately long gone after his triumphant win in 2016, but the memes were truly iconic while they lasted. There was even a meme leading up to the 2017 that found hilarity in all the awards that don't exist, demanding #OscarsWeNeed for categories like Best Animal Performance and Outstanding Background Extra.
Celebrities As Far As The Eye Can See
Those pandas are definitely attention-grabbing, but they are also seriously flaunting the dress code.
Have Mercy
Everyone gets a little breathless seeing Dev Patel in a tux, let's be real.
Dystopia Chic
Looking flawless and giving promo to the upcoming Handmaid's Tale miniseries? Ruth Negga can seriously do it all.
No Judgment Here
Part of the fun of watching the Oscars from the comfort of your couch is not worrying what you look like.
Hidden 'Fences'
There were several embarrassing instances during the 2017 Golden Globes where people conflated the titles of nominees Hidden Figures and Fences. And the same thing happened yet again on the Oscars red carpet, this time coming from Jess Cagle, the Editor-in-Chief of People.
All Eyes On JT
When will the NSYNC reunion happen, huh, Timberlake?? It's a question that needs an answer.
It's A Look
If you're going to pay homage to an iconic look, then you're better off emulating the best. Ron Weasley: style icon.
Never Pass Up A Pun Opportunity
An apt summary of the picture and a pun all at once!
Sweet Dance Moves
When Justin Timberlake wasn't photobombing people on the red carpet, he was making them dance along to the opening number of the night.
I Now Pronounce You Husband And Wife
One of the most delightful moments of the ceremony was when host Jimmy Kimmel brought in a Hollywood tour to meet their idols up close – and Denzel Washington performed a quick little wedding ceremony for one couple.
Shining Just For Me
The Hollywood tour group brought more than a few fantastic moments, like this woman emoting for everyone when Ryan Gosling kissed her cheek.
The 2017 Oscars were full of great moments and memorable laughs, and Twitter was there to make sure no one missed a single one.